From the same artist that brought you the Shaq Attaq Statue outside the Staples Center in LA, as well as creations of Michael Jordan, Magic Johnson and Kareem Abdul Jabbar has a rendering of what might be a new tribute to Lebron James in his hometown of Akron, OH.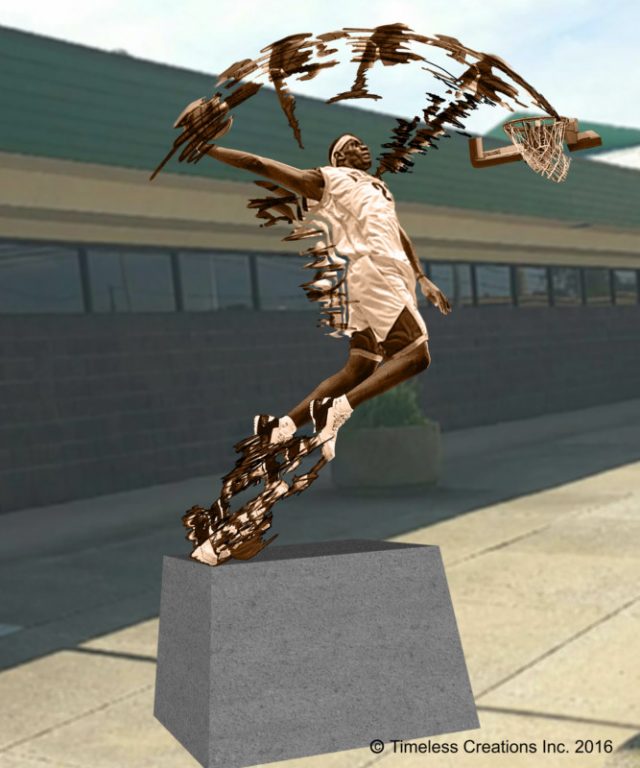 A GoFundMe account has been set up with a goal to raise $1 million to put up a life-size statue in Akron of LeBron James.
The man behind the grassroots campaign is fellow St. Vincent/St. Mary alumnus and state championship high school basketball player Aaron Carey, who roamed the halls six years after LeBron made his way to the NBA and the Cavs.
 Carey admits a million bucks may seem like a kingly sum, but it takes a lot to put up a statue for someone of James' stature.
But realizing there's just one shot at getting this right, Carey, who now lives in Columbus where he runs a nonprofit that assists young fashion designers, has reached out to sculptor Omri Amrany to design it.
The artist has created other statues for NBA players including Michael Jordan, Shaquille O'Neal, Magic Johnson and Kareem Abdul Jabbar.
The bronze statue, if built, would depict James in the midst of one of his signature dunks.
What makes this statue different, Carey said, is that it would be put up while he is still playing — hopefully still in a Cavs uniform — unlike the other Amrany creations that were installed after the star players retired.
The GoFundMe page — dubbed "LeBron James Statue to Akron" — sprang up quietly a week or so ago.
And that's no accident.
"We want to do this with the fans," he said. "We want fans to be able to thank LeBron for what he has done for Akron and the Cavs."
Looking to create a grassroots buzz initially with small donations, Carey said a marketing campaign is coming within weeks to kickstart the fundraising effort and approach donors with deeper pockets.
The first 15 donors of $30,000 or more would receive a limited edition miniature replica of the statue, signed by the artist. Another five miniature signed replicas would be auctioned in the latter stages of the campaign. The remaining five statues would remain in the possession of the artist.
Carey said he hasn't reached out to James just yet about his plan.
Aside from sharing a bond of having been coached by Dru Joyce, Carey said, he had an older brother who played AAU basketball with James and remembers him visiting the family home and sharing a bowl of cereal before games and practices.
"We don't want to be a distraction," he said. "We want this to grow organically at first then hopefully meet with his team after the playoffs are over."
Money aside, Carey admits there's still a lot to be done, including the not-so-small decision of where the statue should go. Right now there are several locations being considered.
The first and most logical, Carey said, would be outside his high school on North Maple Street. The preliminary artist's rendering pays homage to the school and James' time there before heading straight to the pros.
It depicts a young James wearing the first incarnation of his signature Nikes and his No. 23 high school jersey.
"We really want this to be in Akron," he said. "We talked to (Cavs owner) Dan Gilbert and he wants to put one up in Akron after LeBron retires."
Other sites under consideration are in downtown Akron by the street that bears his name, King James Way; outside James' I Promise School on West Market Street; or somewhere on the University of Akron campus.
James' camp did not respond to a request for comment on the campaign.
James has accomplished a lot in his storied NBA career, but Carey said it is fitting that the statue that he expects would become a popular tourist stop remembers that kid from Akron.
"This is a young LeBron," he said. "I think this will resonate with the city. This is the LeBron we all knew as he came up through the ranks."
Craig Webb can be reached at cwebb@thebeaconjournal.com or 330-996-3547.