It looks like LeBron James has been revealed as the cover athlete of NBA 2K19.

"On Monday, a store manager likely updated their merchandising props early and this image leaked featuring James, the NBA 2K19 logo and art and an early release date of September 7. We reached out to 2K, but received no official confirmation, though it appears pretty clear in the image below."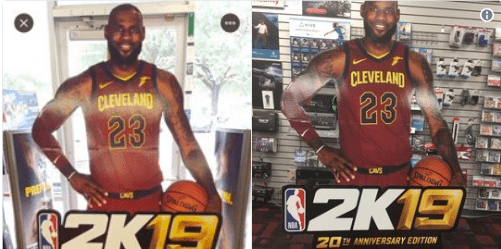 We could speculate that James could merely be the cover boy for the 20th anniversary edition, rather than the standard edition. That was the case this year with Kyrie Irving as the cover boy and Shaquille O'Neal donning the cover of the Legends Edition:
"NBA 2K's Twitter account has also confirmed that at least the color choices and fonts match the merchandising.
As the merchandising says, it is the "20th Anniversary Edition." Is there a Standard Edition and if so, will James be on the cover of that as well? At this point, it's all speculation, but if there is a standard edition, I'd be shocked if James is on the cover. 2K is more likely to target one of the league's young, up-and-coming stars like Joel Embiid, Ben Simmons or Giannis Antetokounmpo, with the latter two being a strong possibility considering their similarities to James' overall game."
LeBron has only appeared on the NBA 2K cover once in his career, when he was with the Miami Heat on NBA 2K14 after winning his second title in 2013. If he were to appear on the cover of NBA 2K19, he would become just the second player during his playing career to appear on the NBA 2K cover multiple times. Allen Iverson was the cover boy for the NBA 2K franchise from 2000 until 2004 during the game's first five releases, while Michael Jordan appeared on the cover during his post-playing career on NBA 2K11 and 2K12.
In other words, this would be the first time LeBron has ever appeared on the cover of an NBA 2K game as a member of the Cleveland Cavaliers.
The four-time MVP will be in the running for his fifth MVP award when NBA award winners are announced on June 25. Despite being in his 15th campaign, James is having his best season yet, averaging 27.5 points, 9.1 assists and 8.6 boards per game on 54.2 percent from the field and 36.7 percent from beyond the arc during the regular season.
James is also in the midst of his eighth consecutive NBA Finals appearance as the Cavaliers currently trail the Golden State Warriors 2-0 in the NBA Finals.