Carnival Radiance will feature the first-ever Big Chicken restaurant, operated by the line's chief fun officer your's truly Shaquille O'Neal.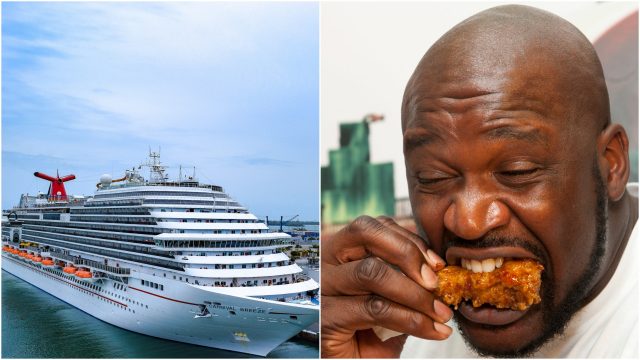 Carnival Cruise Line's new Carnival Radiance is to offer Mediterranean voyages and the company's first Cuba sailings from the US ports of New York, Norfolk and Port Canaveral when she launches after a US$200 million dry dock in Cadiz, Spain in 2020.
Currently sailing as Carnival Victory, Carnival Radiance will be renovated and relaunched on 29 April 2020 with a 10-day Mediterranean voyage from Barcelona, Spain to various destinations in the region. The ship will then embark on a 13-day transatlantic crossing from Barcelona to New York to begin her inaugural season in the city.
Once in New York, Carnival Radiance will offer a series of cruises to Bermuda and the Canadian ports of Saint John and New Brunswick, as well as the line's first New York-Cuba voyages. The latter itineraries will include overnight stays in Havana and The Bahamas. The vessel will then repositioning to Norfolk, Virginia to offer additional voyages to Cuba.
Building on the popularity of Carnival Horizon's short Bermuda cruises, Carnival has also scheduled a series of long weekend Bermuda getaways on Carnival Sunrise in 2020. Carnival Sunrise will also operate longer Caribbean voyages from New York.
Prior to embarking on their 2020 seasons, both Carnival Radiance and Carnival Sunrise will undergo renovations to add a new range of food, drink and entertainment choices. These will include: Guy's Pig & Anchor Bar-B-Que Smokehouse, developed by American restaurateur and TV host Guy Fieri; Fahrenheit 555, an American steakhouse; Cucina del Capitano, a family-style Italian restaurant; and the Caribbean-inspired RedFrog Pub. And you already know about the first-ever Big Chicken restaurant, operated by Shaq.
Both ships will also be upgraded with new aqua park – WaterWorks – featuring the new AquaTunnel slide and the SportSquare open-air recreation complex with a suspended ropes course. Staterooms will also be renovated to reflect a Caribbean theme with a tropical colour palette.