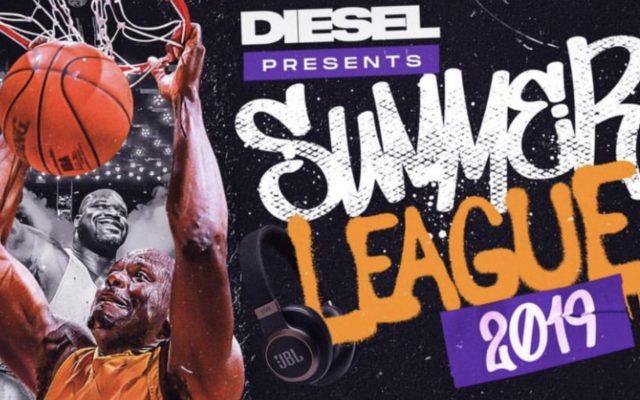 Shaquille O'Neal as DJ Diesel Starts "Summer League" Tour – LIVE!
In the world of sports and basketball, Shaquille O'Neal is one of the most well-known players and personalities of all time… Yet Shaq is also a superstar in another world – that of superstar DJ's and nightclubs around the world. In that world, Shaq is known as "DJ Diesel." This summer, he'll be traveling around the world, taking his DJ show to clubs and music festivals.
Shaq is calling the tour "Summer League" (borrowed from his NBA days), and it's his biggest roadshow ever. Of course along with his live, in-person appearances as DJ Diesel around the world, Shaq / Diesel can also be heard right here online at Shaq Fu Radio. Can't get to a live show? Tune in with any internet-connected device at https://shaqfuradio.com/.
In a recent interview with Billboard Magazine – a major entertainment industry authority – Shaq said: "I always say there are two things that bring people together: Sports & Music. I happen to dominate at both. I miss my NBA days, but to me, DJ'ing is like a sport. My rookie years as a DJ are over, and when I get in the booth on this Summer League tour in front of 100,000 people, it is like game seven all over again."
In the U.S., DJ Diesel makes several appearances at popular Las Vegas clubs, including July 10th and 13th at the Encore Beach Club at the Wynn Las Vegas Resort. Tickets are available now for the popular "Night Swim" DJ party and dance. Along with shows in Las Vegas, DJ Diesel will also be making stops at the Premiere Nightclub at the Borgata in Atlantic City, New Jersey, and the Shrine Nightclub at the Shaq-sized Foxwoods Resort in Connecticut.
In addition to the "regular" DJ gigs (is there anything regular about Shaq?), DJ Diesel also has a new crew called Shaq's Bass All Stars, some of his DJ friends from around the world. The All Stars will be making appearances at the Echostage space in Washington, DC on June 29th, an also on August 2nd at the new Power and Light District in Kansas City.
Taking the show on the road, Shaq / DJ Diesel will also be at the huge Tomorrowland event in a town with a super-cool name: Boom. That's in Belgium (hello, Google Earth). He'll also be at Ushuaia Beach Club in Ibiza Spain…definitely one of the hottest party places on the planet. There are also stops a Poetto On Air in Sardinia and the Not Beach Club in Croatia.
Back in the US, DJ Diesel will be appearing onstage at big music festivals like the Hard Summer Festival in Los Angeles (August 3rd), Lollapalooza in Chicago (August 4th), and the Electric Zoo in New York City on August 31st.
Shaq and his team definitely know how to make a splash. He did it on the court in NBA days, and now he's doing it again in live shows around the world…all with the unique Shaq spin. Check out the super-popular and big-fun events called Shaq's Fun House. They combine all the best elements from music festivals, carnivals, and circus acts … all in one Shaq-sized entertainment experience. Those Fun House events will be on display as part of the Summer League tour at Tomorrowland in Belgium and other locations. Stay tuned to Shaq Fu Radio and this blog for more info!
Keep up with the very latest Shaq stories right here on the blog, and of course on the air at ShaqFuRadio.com