Does it get any bigger than this? Turner Sports and the National Basketball Association have announced that none other than the Big Man himself – Shaq – will be the host of the 2019 NBA Awards presented by Kia. The program airs Monday night, June 24th.
Along with Shaq, the star-studded show will include a variety of celebrity guests as well as current and former NBA players. And of course our host, the NBA legend and entertainment icon himself!
In case you missed it, Shaq was able to corral his Turner Sports co-hosts Ernie Johnson, Charles Barkley and Kenny (the Jet) Smith into helping him make the big announcement. Shaq called it a "public service announcement." See what you think…here's the clip:  https://youtu.be/pslVTVShCHw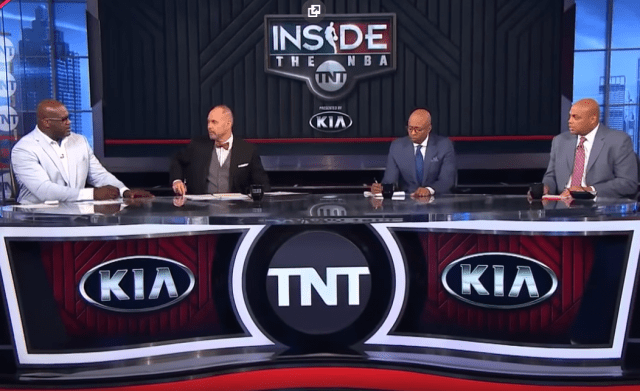 O'Neal has been a part of Turner Sports' NBA in-studio team for eight years, providing his Shaq-specific insights, commentary and the occasional run to the big video wall with Kenny Smith. He's also been an important (should we say big?) contributor to NBA TV and NBA.com. He's even got his own show on NBA TV, called Shaqtin' A Fool.
Of course before the TV time, Shaq put in 19 hard years in the NBA after being drafted first overall by the Orlando Magic in 1992. Shaq and teammates won four NBA Championships (three with the Los Angeles Lakers and another with the Miami Heat), and he's a three-time NBA Finals MVP. Along with the rings, Shaq is a 15-time NBA All-Star, and he ranks eighth on the NBA's all-time scoring list. In September 2016, O'Neal was inducted into the Naismith Memorial Basketball Hall of Fame. Among his many, many gigs as a TV and media pitchman, he's also a national spokesperson for the Boys & Girls Club of America.
Some new additions to this year's NBA Awards on TNT: National sponsor Kia will now present awards for the Kia NBA MVP, Kia NBA Defensive Player of the Year, Kia NBA Rookie of the Year and Lifetime Achievement Award, among other big awards.
The show will also honor Robin Roberts – the host of ABC's Good Morning America program. She'll receive the special "Sager Strong Award," named for popular sports reporter Craig Sager, who lost his long battle with cancer two years ago. Presenters say the award is given to "an individual who has been a trailblazer while exemplifying courage, faith, compassion, and grace."
Other award recipients will include NBA icons Larry Bird and Magic Johnson. They'll be co-recipients of the Lifetime Achievement Award.
Others on stage along with Shaq: Award-winning actor (and "S.H.I.E.L.D. boss) Samuel L. Jackson, comedian, actress and producer Tiffany Haddish, and NBA on TNT analyst and Naismith Memorial Basketball Hall of Famer Charles Barkley. Also included: comedian and co-host Hasan Minhaj, actor and producer Justin Hartley, writer, producer and actress Issa Rae, WNBA Champion and NBA TV analyst Candace Parker.
Marv Albert will serve as the live show announcer (of course!), models Jesse Conrad and Hilary Cruz will serve as trophy presenters and DJ Kiss will provide the musical backdrop for the show.