He's a big guy with big dreams… even when it comes to business. Back in his NBA days, Shaquille O'Neal was signed by the Reebok sneaker company. They created and did a big business with their line of "Shaq Attack" sneakers. That was back in 1992, when Shaq was drafted by and played with the Orlando Magic. 
Recently, Shaq has expressed an interest in buying the company that took good care of his size 18 feet. Now, the company is not officially for sale, and if it was, it would probably cost billions of dollars. Reebok is not an individual company any more, either.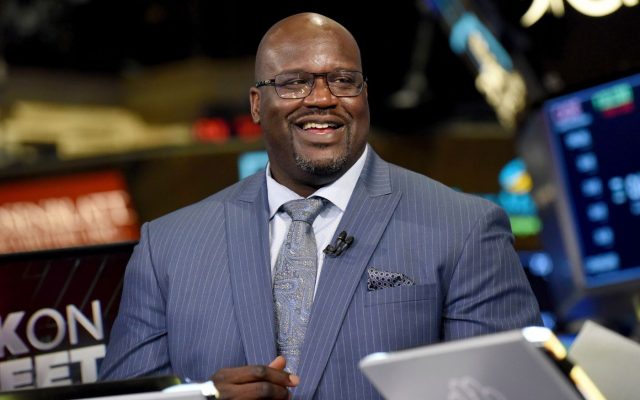 Back in 2005, Reebok was purchased by the big German sportswear and shoe company Adidas. At the time, Adidas paid a reported $3.8 billion dollars for Reebok. There's been no indication that Adidas is interested in selling off the Reebok brand, but that hasn't stopped Shaq from talking about it. 
Shaq is no stranger to big-money, high-profile business deals. Sure, he's the on-screen "Chief Fun Officer" for Carnival Cruise lines, and he's done a LOT of other TV and radio commercials for a wide variety of companies and services. But the Big Man is a lot bigger than that.. He's a part owner of many companies as well. Recently, he joined the Board of Directors of the Papa John's Pizza company, and he is in the process of purchasing several of the company's pizza outlets in the Atlanta area. 
In fact, O'Neal has said he's making more money now with his business and sponsorship deals, compared to the salaries he collected in his NBA days. Think big-money investments and what are known in the marketing business as "brand partnerships." 
But Reebok? Shaq is already involved with one business that has sports connections. O'Neal is involved with a company called Authentic Brands Group. That company recently bought the iconic magazine Sports Illustrated and some of its related assets. In an interview with cable TV business channel CNBC, Shaq talked about that connection and his desire to – maybe – go after Reebok.
Shaq's connection to Reebok goes back to his early days in the NBA, when he signed a multi-year deal valued at $15 million… a lot of money back in those days! O'Neal told CNBC that Adidas' corporate ownership of Reebok has resulted in what he said was the Reebok brand being "diluted so much that it's almost gone." He continued, "If they don't want it, let me have it. I want to bring [Reebok] back to basketball and to fitness."
Shaq's business dealings are spread into many different markets. He's into personal care with the Icy Hot and Gold Bond brands, and he is a spokesman for Buick cars and SUV's. Personally, he owns will over a hundred retail businesses, including including restaurant franchises, car washes and 24-hour fitness centers. Shaq is already in the clothing business with his "Peerless" and "XLG" collections, sold through J.C. Penney stores. 
Still, Reebok would be his biggest catch to date. Industry reports show Adidas generates about $2 billion annually through footwear and accessory sales…and the entire brand has about $8 billion in annual sales. Would Adidas want to sell Reebok? A few reporters have reached out to ask, but there's been no definitive answer. At least now yet.