With the NBA draft officially in the record books, teams will be writing some big (or should we say BIG) checks to their first-round picks. And it's not just the first few at the very top of the list. It's estimated that the top 30 picks will each be earning at least $1 million for their starter season's play. 
Even for those at the bottom of the list, the pay is by no means second-rate. The NBA league minimum is still over $560,000. Not bad for the last guy picked for some random team…
The New Orleans Pelicans used their pick – the very first of the draft – to take Duke sta Zion Williamson. The Memphis Grizzlies had pick #2, and with it they selected Murray State's Ja Morant. Pick #3 overall was by the New York Knicks. They chose another Duke Blue Devil, RJ Barrett. Fun fact: All three of those picks only played one year of college ball – they all opted for the NBA draft after their one required year of college hoops.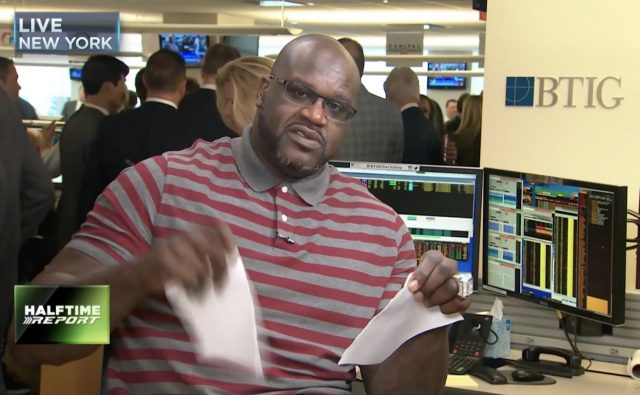 As freshmen, these are obviously very young men. And now they're not only very young, they're very rich, too. The sports stats website Sportrac says as the first overall pick, Williamson is in line for a guaranteed two-year contract worth an estimated $19.98 million. The deal will also give the team additional options for his third and fourth seasons…which could mean Williamson's earnings could add up to almost $45 million. 
Interviewed on business-news cable outlet CNBC, O'Neal got right to the point. While he didn't have a $100 bill handy (hard to believe, we know, but go with us here…), Shaq held up a single sheet of paper and got right to economics class. 
"Alright children," he said, speaking with reporter Bob Pisani, "This is $100. What you want to do is, you want to rip the $100 in half." Take one half, he said, and "save it. Don't ever touch it. Put it away. Don't even look at it. Now you've got $50 left. Now, the smart people … the billionaires of the world, they'll take half of that $50 and put all that away," he says, while adding another quarter of the piece of paper to what he called the "save pile."
Shaq has some pretty good big-money stories of his own. As a former number one pick himself, Shaq said he wished he'd listened to good financial advice when he was young. O'Neal definitely had some expensive fun with his money…he reportedly blew about a million dollars on a shopping spree within hours of being drafted by the Orlando Magic and getting that first contract signed. 
Back to the financial advice: Shaq told CNBC – and hopefully some newly-minted NBA millionaires – the quarter of the money left, "This right here is your fun money: "You want to buy houses, you want to buy cars, you want to buy planes, you want to travel? This right here is what you have fun with."
While he admits he didn't follow his own advice right from the start of his career, he eventually caught on and started saving a big chunk of his income, both from NBA contracts and the many commercial and promotional deals he had in following years. Summing up his interview with CNBC, Shaq said "A guy taught me that a long time ago, and it's been working for me."