No surprise here: Shaq put on a larger-than-life show as DJ Diesel at the Encore Club at Boston Harbor. Of course, the big man is larger than life wherever he goes and in whatever he does, but when the former NBA superstar comes back to a city where he once played, the experience just gets that much bigger. 
Normally, DJ's and other performers hang out and chill behind the scenes before taking the stage for their scheduled appearance. Not so with Shaq, who definitely let the Encore crowd know he was in the house well before stepping up to the mic.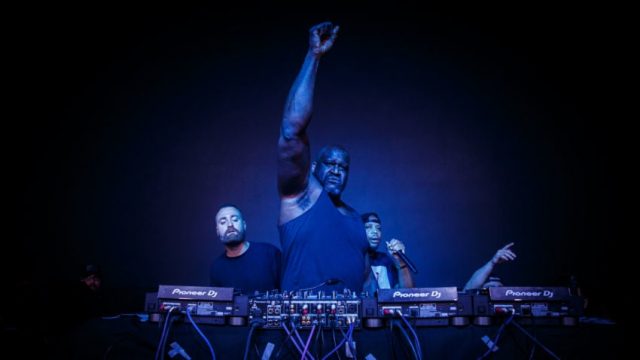 While DJ Diesel wasn't scheduled to start his set until 12:30, Shaq was spotted making his way around the casino poker tables around 11:15. And it wasn't just Shaq… he'd brought an entourage of about a dozen. The group made its way around the tables, with Shaq being Shaq: smiling, shaking hands, pausing for selfies with the patrons. Shaq did play one season with the Boston Celtics, but for the crowd that night, he was welcomed back like a full-career veteran. 
Somebody noticed that Boston Bruins (of the NHL) players Charlie McAvoy and Sean Kuraly down on the main casino floor. Any other night, they might have drawn a crowd of their own, but not tonight. Hard to be noticed when 7-foot-1 O'Neal and his crew of 15 are taking up all the attention.
The Encore's Memoire holds – officially – about 600, and it was definitely full to capacity that night. The biggest man in the house spent time before his set hanging out in the VIP area next to the performance stand for a full hour before his set. You might say (we will) that Shaq is more a "man of the people," taking as many photos as he could with fans and friends… doing a few "laps" around the edges of the roped-off VIP space. Hangin' with the people! 
DJ Diesel took the stage at 12:30 a.m., and from that point on, it was all business. After doing selfies all night, his first words from stage were "Put those f****** cameras down… We're here to party." Of course that didn't happen – at least not completely – but the party definitely cranked up, all with the help of the club's fog cannons, laser lights and monster 38-foot wide LED TV wall. 
Fans at the Memoire reported on Shaq's 'unique' set that night. Along with the usual ear-splitting dubstep bangers, DJ Diesel tossed in one or two sing-along songs, including Vanessa Carlton's "A Thousand Miles" or The Killers' "Mr. Brightside." Made for some interesting dance moves, for sure.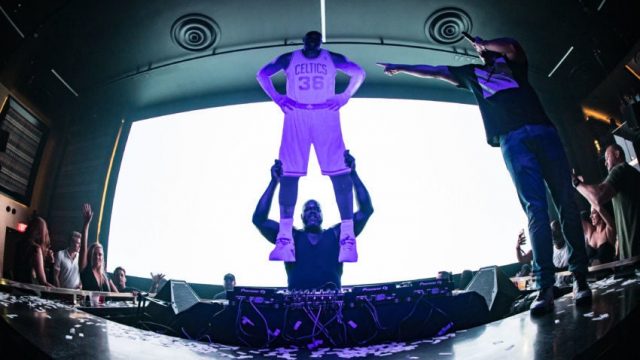 So when you played for the town's NBA team, this is what happens: Shaq held up a ginormous cardboard cutout of himself – in Celtics uniform, of course – and waved it in rhythm to the music. "Big Shamrock is back," he yelled. 
The big night in Boston was just one part of the Diesel summer tour. Oh yeah, it's ON this summer…all over the world. Shaq and crew will be appearing at two upcoming "Night Swim" events at the Encore club at Wynn Resort and Casino in Las Vegas. There are appearances at a couple of European party events, and then later in the summer, DJ Diesel will be Lollapalooza in Chicago and the Electric Zoo Music Festival in New York. Check here for the latest tour information and get your tickets while you still can!