You're going to see Shaq's face on yet another series of TV commercials. The big man has inked another deal to be the on-camera "face" of another popular product…this time it's the computer printer company Epson that's getting some Shaq-love. 
Shaq is already starring in one commercial that'll make its debut soon. It's all about Epson's line of "EcoTank" printers. The printers feature a money-saving system of refillable ink tanks… not the individual replacement colored-ink cartridges used by many other brands of computer printers. According to Epson, the new line of printers allow home and business users to save up to 80% on ink with their low-cost replacement bottle system.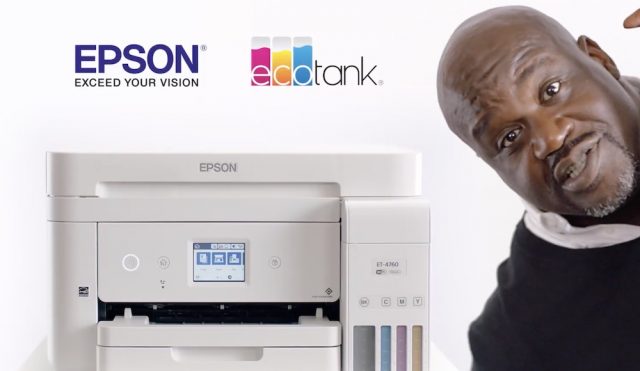 In a prepared statement with Epson brass earlier this week, Shaq said, "Between family and work, life keeps my pretty busy. I'm always on the lookout for products that make everyday tasks quick and easy, so I can focus on the things that matter most. Epson simply offers the best printing and home technology out there." 
Catch the entire new TV commercial here: https://youtu.be/j1GWHfg2P5Y . See if you can spot the DJ Diesel reference!
Shaq has indeed been a busy guy lately. Seems he just keeps adding new commercial sponsorships, business investments and more. He's even been added to the Board of Directors of Papa John's Pizza. Shaq owns eight franchise stores of Papa John's in the Atlanta, Georgia area. (And he says he's looking to add more…) 
Along with the pizza business, O'Neal is the on-camera face for The General Insurance (have you seen him stuffed into that little sports car with the cartoon general? Hilarious!) 
Along with The General, Shaq is the main TV spokesman for Icy Hot Smart Relief painkiller, and he's got the enviable job of CFO – Chief Fun Officer – for Carnival Cruise Lines. 
In his new role with high-tech Epson, Shaq will be highly visible (as always) with TV commercials, online / social media ads, and in-store marketing materials. There are even some live appearances in the works. 
Importantly, this is not just a "pay to play" deal for Shaq in pitching a new company and product. O'Neal and Epson have also signed on the dotted line for a new philanthropic program that'll have Shaq and Epson working with a group called Communities In Schools (CIS) that will provide EcoTank printers, projectors and scanners (also made by Epson) to schools across the United States.
As part of his statement announcing his deal, Shaq says, "Epson and I share the same passion for education and giving back." O'Neal says he's not forgotten his roots and wants to continue to give back to help people. Shaq says, "Everything that we do in the community is about helping people." 
A few other big, recent Shaq deals, commercials and more include brands like Taco Bell, Buick, Vitamin Water, Oreo cookies and Toys-R-Us.