Summer of 2019 continues for Shaq… and the heat and action are running pretty much full-out. The Big Man's latest appearance was the Tomorrowland Music Festival at a place with a name to match the action – Boom, Belgium.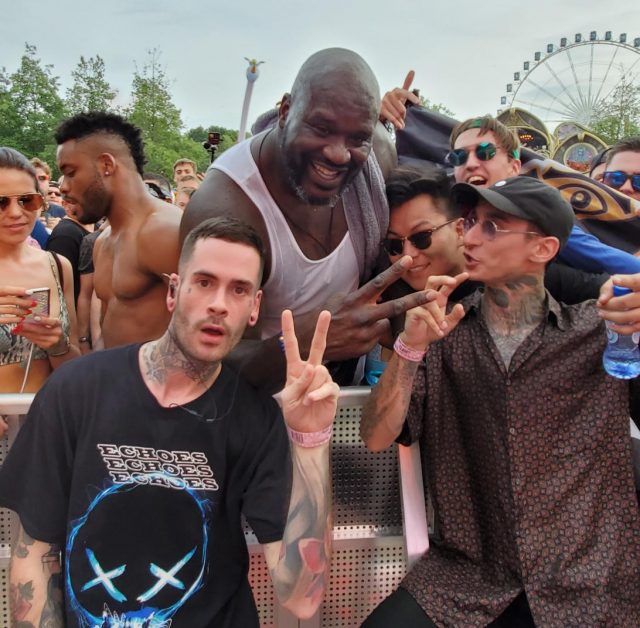 Tomorrowland bills itself as the worlds' biggest dance music festival, with bands and DJ's from around the world, including DJ Diesel, aka Shaq. But just playing for the crowd wasn't enough for the former NBA superstar – Shaq hung around to be part of the dance party and mosh pit. 
Submitted for your approval: Several Twitter videos of Shaq gettin' his groove on at Tomorrowland, along with a few thousand of his close friends and music lovers. 
Shaq rides the rail during a performance by British dubstep and electronic rock duo Modestep. (Video courtesy @KillTheNoise)
Click any video to play – be sure to turn up the volume!
Things get a little pushy as the music heats up. 
Even more ShaqFu fun as seen from the Tomorrowland stage.
At 7'1", you definitely can't miss Shaq in the crowd – no matter how many thousands might have been there. Center of attention? Check.
Yet Shaq didn't just come to dance… he came to play as well, and we don't mean the fun and games kind. DJ Diesel was all business as he played a full hour-long set of for the Tomorrowland crowd. 
Shaq included a bunch of his own posts and pics on his personal Twitter and Instagram feeds. On the 'Gram, Shaq wrote: "Sometimes is better to party WITH the people, than for the people!"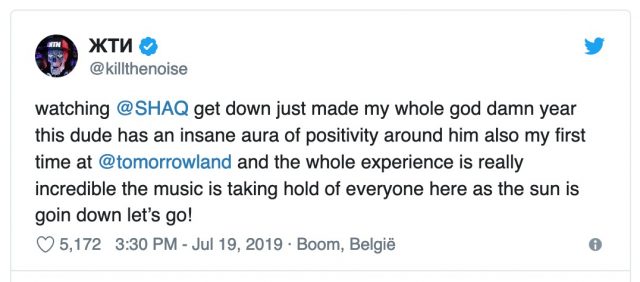 This year's Tomorrowland Festival is the 15th anniversary edition, and returned to a popular theme of the past, the "Book of Wisdom." (Each annual festival has a theme that drives the elaborate stage shows, lights and merchandise for the show.) 
This year's headliners included artists like The Chainsmokers, DJ Snake, Afrojack and Armin van Buuren. Maybe next year DJ Diesel will be a headliner himself!