Regular readers of the ShaqFu Radio blog know the Big Man has an eye for business and an ear for music. Shaq is involved with many different business interests, as an investor, owner and media spokesperson. He's also big (pun intended) in music, as his alter ego DJ Diesel is making the rounds at clubs and festivals around the world.
Shaquille O'Neal still holds the title for only NBA Player to be a Platinum selling recording artist. Oladipo already has several music videos online, and now that off-court music career may be ready for blastoff. Music culture was deep-rooted in Vic's upbringing, as the Maryland native was exposed to various genres of tunes by his siblings and parents, ranging from country to R&B and hip-hop. "Coming from the Nigerian culture, music is really big. I had a whole variety of music I was listening to and it was definitely impactful and beneficial to my music career," the 27-year-old told Billboard last year. "I started singing when I was 6 years old in the [children's choir] at church, and I've been singing ever since then." For Oladipo, it's been quite an interesting journey to get where he is today…
Oladipo suffered a season-ending injury back in January in a game against the Toronto Raptors (who would go on to win the NBA Championship over Golden State). The comeback has required extensive rehab and lots of patience for both player and team. Pacers officials say Oladipo will definitely not be back to start the 2019-2020 season. It may take well into December for complete healing and rehab.
Oladipo has his own YouTube video channel. Lately, he's been documenting his own recovery and rehab work. One of his latest releases shows his work on physical therapy…and as VO says, "It's all about staying positive and taking things one day at a time."
While he's not active in the game, Oladipo continues to work (and play) with other off-court interests…and here's part of the connection to Shaquille O'Neal. Both Shaq and Victor (along with a dozen other high-profile athletes) have become investors and ambassadors for Beyond Meat.
What? You've never heard of Beyond Meat? Well, if Shaq, Victor, Kyrie Irving, Lindsey Vonn, DeAndre Jordan, Tennessee Titans player Derrick his wife (and chef) Charity Morgan, Olympian Shaun White and others have anything to say, you will…soon enough. A company statement says it all: "At Beyond Meat, our goal is to provide consumers with plant-based meats that represent the Future of Protein – delicious, satiating protein and fuel for the body that is unburdened by health concerns increasingly associated with various animal meats."
Oladipo is spreading out his off-court business interests with the help and guidance of his manager, Jay Henderson. In fact, Henderson's son (who has the same name as dad) is an up-and-coming player in the Pacers organization, and buddies with Victor. The circle of life, NBA-style.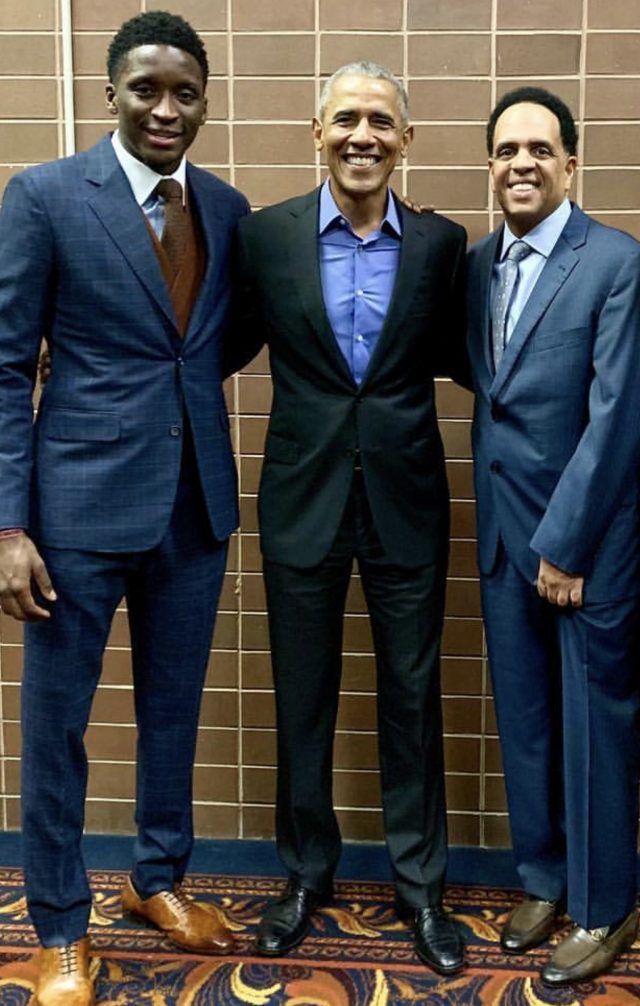 Oladipo hangs with good company. Along with his manager, Jay Henderson, that's big-time NBA Chicago Bulls fan Barack Obama (oh yeah, former President, too).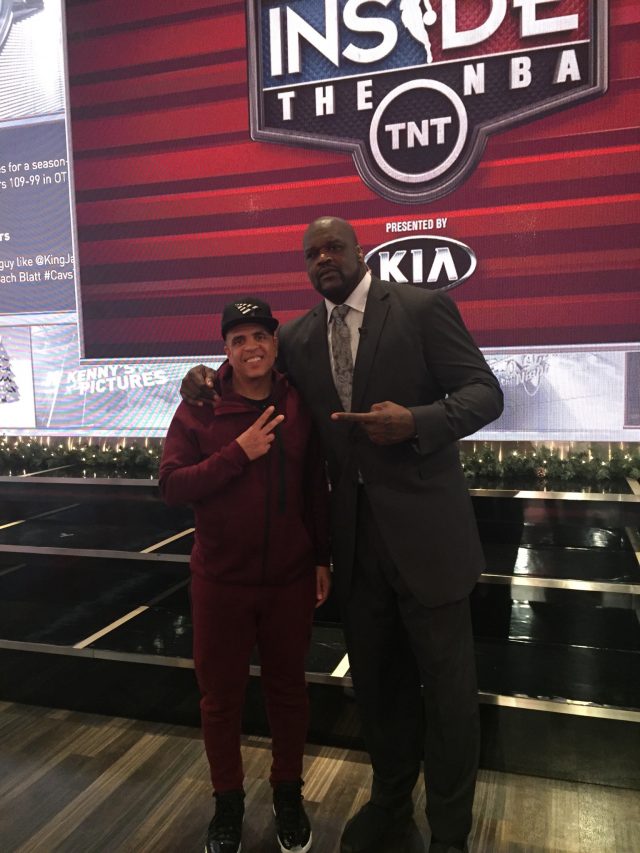 Jay "Belly" Henderson with Shaq at The TNT Studio
When you're friends with Shaq, there can definitely be some perks. Here's a little selfie-video with Oladipo during a private jet trip with O'Neal:
Like Shaq, Oladipo and manager Henderson are interested in building a full-on brand. Jeans? Sneakers? You bet. But more, too. Oladipo told the Indianapolis Star newspaper: "I decided to take control on and off the court and really make decisions that are best for me instead of relying on other people," Oladipo says. "It's about growth, getting a little wiser, a gray hair here or there. I'm trying to grow up."
Of course part of growing up is taking good care of the body. We've already talked about the investment in Beyond Meat. Oladipo takes nutrition and hydration seriously. He carries his own one-gallon jug of water with him, almost everywhere. In a show of support and solidarity, friends have seen Victor and manager Henderson arrive at Miami-area restaurants, both carrying their own jugs.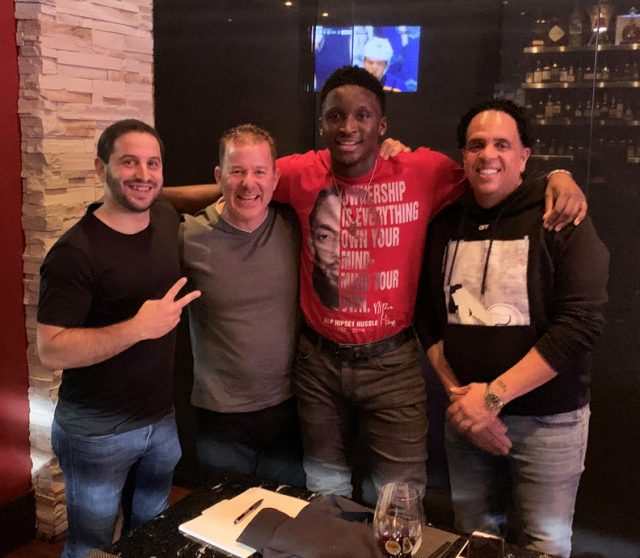 VO and Henderson hanging with the team from Versus Management, Oladipo's sports agents in Cleveland.
As if all that wasn't enough, there's the budding music career. With almost a million views, his video for his tune "Connected" is getting plenty of attention on YouTube. Check it out for yourself:
Even with the physical rehab work continuing and a return to the NBA in the cards, there's plenty of work and play to keep VO busy. Stay tuned to ShaqFu Radio for more on this rising star in the future.