When you're the son of NBA superstar and TV personality Shaquille O'Neal, you probably don't need to do a lot to introduce yourself- or for that matter, prove who you are. Yet now, 19 year-old Shareef O'Neal is making it totally clear what his lineage is all about. The younger O'Neal has had an iconic photo of his father tattooed on his leg.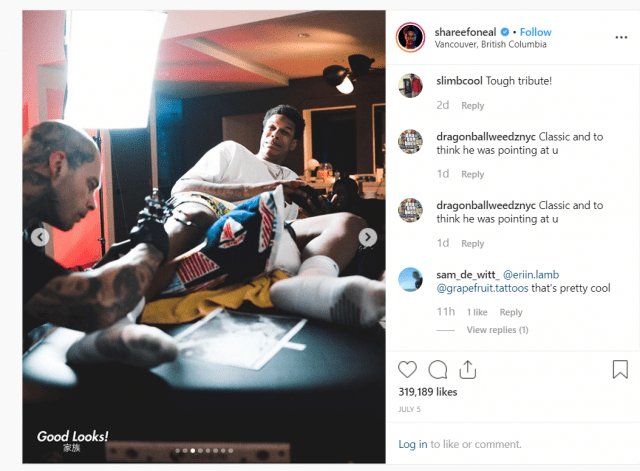 Check out the Instagram link below the image to see a bit of video that matches up the tat and the history. The scene is from Game 7 of the NBA Western Conference finals, which featured Shaq, Kobe and the Lakers against the Portland Trail Blazers in the year 2000.
In case you missed it, here's a replay of Shaq's big dunk from the 2000 Westerns… and Shareef's tattoo. See if you think the ink matches the video.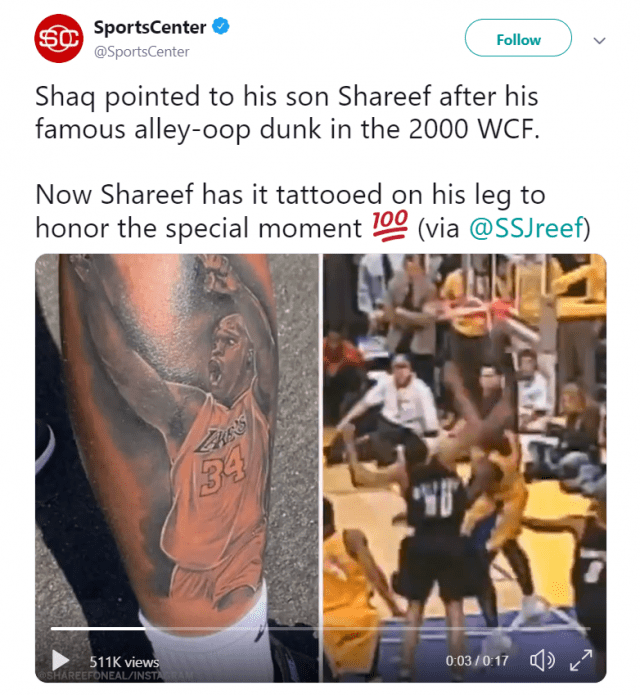 Kobe made a great lob pass to the rim. Shaq grabbed the ball mid-air and finished with a big-time jam. Upon landing, Shaq ran to the Laker bench with his arms raised in the air, pointing to his infant son (yes, that son) in the stands, watching his dad. 
Fast-forward almost 20 years later. Shareef O'Neal is all grown up at 6-foot-11, playing power forward for the UCLA Bruins. The younger O'Neal had to miss the entire 2018-19 NCAA college season with concerns over his heart health. He underwent surgery early this year…but as of March he's been cleared to play in the upcoming season. 
After the great show against the Trail Blazers, the Lakers would go on to win the 2000 NBA Finals over the Indiana Pacers. Shaq was named Finals Most Valuable Player for the series. The Lakers – with Shaq and Kobe – would go on to win a total of three consecutive Finals. After that run, Shaq departed for Miami, and would go on to win another NBA Championship with the Heat in 2006. 
On a related note: see the previous blog post here on ShaqFuRadio.com to read about Shaq's new friend Victor Oladipo. VO plays for the Pacers, even though he had to sit out much of last season with an injury. Still, Oladipo is building his off-court business and music career… and he's getting some good help from Shaq. 
Shareef attended Crossroads School in Santa Monica, California. As a senior forward, he was ranked among the top high school basketball players of his class from across the country. Now with UCLA, O'Neal has been working out and participating in summer camp action. So far, UCLA is not allowing O'Neal to do media interviews, but team coach Mick Cronin has nothing but good things to say about Shareef. "He's been great as far as working with him on things. And he wants to get better. So he's got a tremendous personality … He wants to learn, he wants to improve. That being said, I think obviously he's got to improve physically from a strength standpoint. He's got to get some upper-body strength."