When you're in the NBA – or playing any other sport, for that matter – it's important to be "coachable." That means you are open to hearing how to "up your game" with the advice and coaching of those who have spent more time in the game than you. Of course Shaq had some great coaching in his time in the big leagues. Yet now, it's staying coachable, and keeping an eye on others in the business world to help him further his own off-court career.
In a recent interview, O'Neal revealed one of the sources of his inspiration and education when it comes to the business world. Shaq says he figured out some powerful moves from one of the richest men on Planet Earth – Amazon founder and majority owner Jeff Bezos. Not only that… Shaq says it was when he really started to figure out and copy Bezos' moves that his own net worth skyrocketed.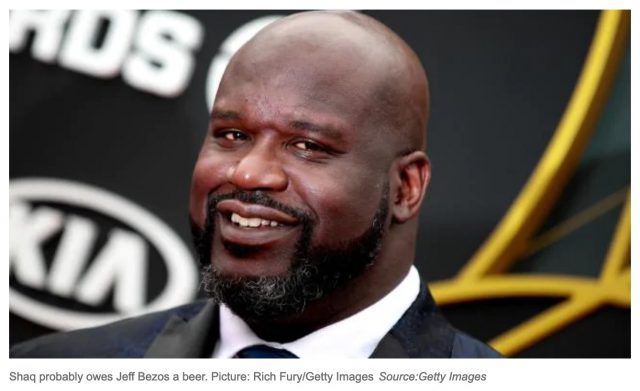 Now Shaq is by no means a complete "noob" when it comes to picking good investments. In the years since his NBA career with Orlando, Los Angeles, Miami and Cleveland, Shaq has shown he's got good investor instincts and insight. He's a big investor in companies like Apple and 24 Hour Fitness, and he was on-board early in the financial success of online search giant Google.
In addition, Shaq has moved into business as an owner as well. He currently owns at least eight Papa John's Pizza franchises near his hometown of Atlanta, Georgia (well, one of his hometowns, anyway). He also owns several Krispy Kreme donut locations, and is on the lookout to buy more – both pizza and donut stores, that is.
But back to Amazon's Bezos. In a recent video interview with the Wall Street Journal financial newspaper, O'Neal gave props and credit to Bezos. Depending on the most recent numbers, Bezos is worth an estimated $163.1 BILLION dollars – which easily makes him the richest man in the world.
In the interview, Shaq his lesson from Bezos very simply. He remembers Bezos saying he makes his investment decisions based on several factors, but this is the most important: Is it going to change people's lives?
Shaq told the Journal, "Once I started doing that strategy, I think I probably quadrupled what I'm worth." Now, O'Neal is nowhere near worth what Bezos banks, but according to a recent check by NBC Sports, Shaq's net worth is believed to be around $400 million.
Talking to the Journal, Shaq said he put his strategy into place after his retirement from the NBA in 2011. He says plenty of offers and business ideas "came across my desk. But if I don't believe i it, I don't even look at it." He said that included a lot of ideas that might have been "sure things," but they still didn't pass the test of being something Shaq personally liked, enjoyed and believed in.
Shaq says: "Whenever I do business, it's not about the money." Case in point: Krispy Kreme donuts. O'Neal says he discovered them back in college, and has been a fan ever since.
And while plenty of Shaq's investments are made with a long-term plan in mind, he's careful not to think about the future financial return – just the way it will benefit customers and others. "I never say, 'If I invest in this, five years down the line, we could sell it for this.' Every time I've had that model, it's always been a failure," he told the Journal.