The Los Angeles Lakers – home of the purple and gold – have been an NBA powerhouse team for probably (depending on who you ask) the last 50 years. Over those five decades, the team has won a handful of NBA Championships and a whopping 31 different conference titles.
Now the sports website Fadeawayworld.com has published its list of top Lakers, broken down by the decade. Shaquille O'Neal makes the list, along with other Lakers greats.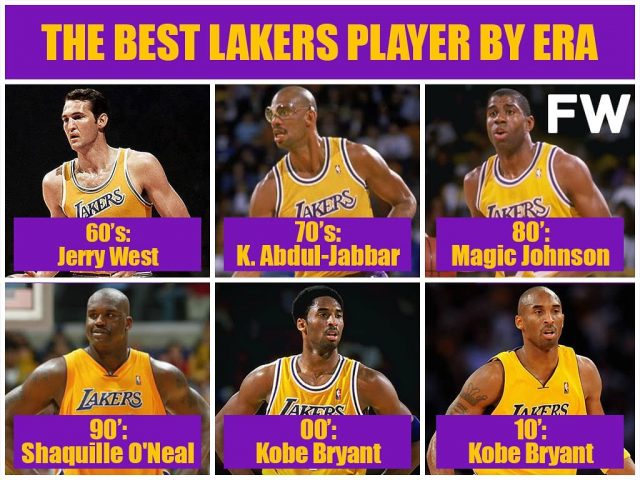 Now, times have been a little tough on the Lakers lately. LA added Cleveland superstar LeBron James last season, but he didn't really have much impact on the team. That'll no doubt change as the Lakers continue to make off-season moves to pick up new talent…but it's been awhile since the last Lakers playoff run.
So how about the list? Well, it starts in the 1960's, and the first name on the list is The Logo himself, Jerry West. West was a big-time scorer, and he played (what would later become known as) "lockdown defense" against the big names of his era. He has the singular record of being the only NBA player to be named Finals MVP – even though he was on the losing team! Career-wise with the Lakers, West averaged 27 points per game, 5.8 rebounds, and 6.7 assists. He won the overall scoring title once, along with one NBA Championship. He played in 14 All-Star Games and was named to 12 All-NBA Teams.
In the 70's, it was all about Kareem. According to Fadeawayworld, Kareem was "A dominant scorer, rebounder, and shot blocker, there was nothing Kareem couldn't do." He won 5 NBA Championships with the Lakers (and another with Milwaukee). He led the league in blocks 4 times, once in boards, and 2 times in scoring, and he was named Finals MVP twice, to name just a few of his honors.
The 80's where owned by Magic Johnson. Johnson is in the running for the title of the NBA's greatest passer ever. At one time or another, he played all 5 positions on the floor, and he helped LA win 5 NBA titles.
Shaq makes the list as the dominant Laker of the 90's. It wasn't until the end of the decade when Shaq would win his first NBA Championship with the Lakers, during the 1999-2000 season. Still, that win would be the first of a monster three-peat in Finals wins for the Lakers.
The next two decades both belong to one player – Kobe Bryant. Shaq left LA after the 2003-04 season, and Bryant took on the role as sole team leader…basically putting the team on his shoulders, and winning two more NBA Championships in the decade of the 2000's.
The 2010's were hard on the Lakers, but Kobe was still the main man. Now with the teens decade coming to an end, who will be next? LeBron is still very much on board, and the Lakers are making some interesting trade moves. The story is far from over…