Shaquille O'Neal has joined with Skechers U.S.A. Inc. to launch a line of kids basketball shoes.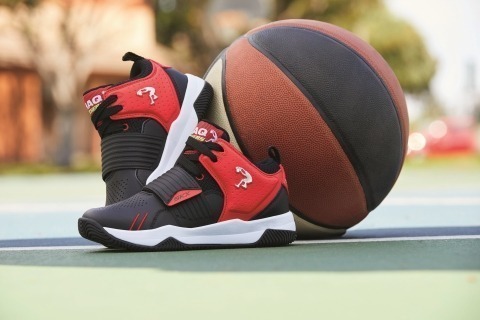 Once again, Shaq is expanding his business and sponsorship reach, this time with a new partnership with the Skechers footwear company. The popular line of shoes is coming out with the "Shaq by Skechers" collection – the company's first-ever line of kids' athletic shoes. And since they're Shaq-inspired, the shoes are designed specifically for basketball.
The company – based in Manhattan Beach, California – issued a media release on the new lineup recently. Company President Michael Greenberg said, "This all-new children's basketball collection is an important addition to our offering, so it's only fitting that we're launching with the help of one of the biggest and best players in NBA history."
Greenberg added, "Fans everywhere continue to enjoy Shaq's enthusiasm for the sport, so we know kids will be excited to wear his shoes while on the court or at play. We couldn't ask for a better ambassador to help us bring athletic footwear to elementary and middle schoolers in a new and exciting way."
Shaq has lined up several brands to be "ambassador" for in recent years. Those include (among others) Papa John's Pizza, The General insurance company, Krispy Kreme Donuts, and one of his biggest, most popular positions, as "CFO" (Chief Fun Officer) for Carnival Cruise Lines.
As part of the Skechers announcement, Shaq said, "I think kids are going to love the way the new styles look and they'll love playing in them even more. These boys and girls might not be dunking yet, but I can't wait to see them posting up in their new Shaq by Skechers footwear!"
The collection's core styles are available in three different color schemes and feature leather and knitted upper options, plus lightweight midsoles and rubber outsoles. There are models more like the ones Shaq wore on court… a lot smaller in size, of course. Sneakers featuring a lace-up closure, with one of the styles available with a wide single strap. Every style includes the Shaq by Skechers mark and dunking Shaq logo.
While the kids who wear the new Shaq Skechers may never grow all the way to the Big Man's 7 foot, 1 inch… they can still set their sights on hoops greatness. As for O'Neal himself, Shaq is still considered one of the most dominant NBA players in history. Over his 19 year career, Shaq played for six different teams. He won the NBA Championship three times in a row with the Los Angeles Lakers in in 2000, 2001 and 2002…and then again as a member of the Miami Heat in 2006. He is one of only three players to win the MVP, All-Star game MVP and Finals MVP awards in the same year.
Skechers says the new Shaq collection is on sale now at Skechers retail stores, also online and select other retail partners. Overseas? The new lineup drops in Canada, Europe, Latin America and Israel later this year.