Popular radio sports-talk show host Colin Cowherd is out with a very interesting list in the sports world…what he's calling the "10 Most Physically Imposing Athletes Ever." Sure, there are some no-brainer names on the list..but there are some strange and set-the-Wayback-Machine names, too. Of course since this post is going on the ShaqFu Radio blog, you can guess the Big Man is on the list. Stay tuned for more on where Shaq lands on the list. 
Of course we'll do the list in reverse order – just to maintain the suspense! Yet here's a teaser: Shaq is in the top half of the list. There are two – count 'em, two – NBA players on the list. Let's get started: 
Number 10 on the list is the first of those two NBA players: Wilt Chamberlain. For those into NBA history, you already know that Wilt started his career in the 1950's! Sure, it was 1959, but OMG that was a long time ago. Wilt was Shaq-sized: 7"1', and he played against NBA competitors who averaged 6"5'. Maybe no surprise then that Wilt averaged 50 points a game for several seasons.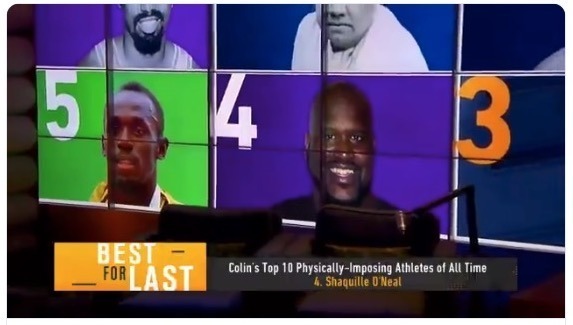 As "The Herd" points out, Wilt was indeed a big man – one of the biggest of his era – yet he was very mobile and athletic, able to run the floor and make moves normally seen in smaller players. 
Number Nine on the list works the Wayback Machine the hardest. It's baseball star Babe Ruth. Yes, the candy bar guy. At 6"2', that's not much bigger than most American men today. Yet when "the Babe" played in the early 20th century, the average height for American men was only 5"7'… a huge difference. Cowherd says Ruth in his prime was hitting more home runs that some major league divisions. 
Number Eight on the list, another baseball player…but much more in the modern era: Randy Johnson. At 6"10', he won four consecutive Cy Young Awards. 
Number Seven on the list is from hockey. Zdeno Chara, the tallest player in the league. As a big man, Chara has been around a long time… he's currently 42 years old, and played in this year's Stanley Cup Finals. 
The only woman on the list is Number Six: Serena Williams. Cowherd points out she's won matches while pregnant…and was (again) in the Wimbledon Finals this year. She has the most tennis Grand Slam titles. Cowherd calls it a "decade of dominance." 
A Track and Field athlete is number Five on the Herd's list. Usain Bolt holds the world record in the 100-meter, 200-meter, and 4X100-meter relay. Cowherd says "He looks like an NFL football player…and while running in events, would toy with guys (competitors) for 80 yards."
Our man Shaq is Number Four on the list. Cowherd says he had a conversation with former University of Las Vegas coach Jerry Tarkanian when Shaq was still in college at LSU. At the time, "Tark" told Cowherd Shaq "will be the most physically dominating player since Wilt Chamberlain." 
Cowherd talks about covering Shaq in his Orlando Magic days, watching in amazement as the Big Man broke NBA backboards. Yikes! (Check out the videos online…)
The top three on Colin Cowherd's list are – to say the least – a very diverse bunch. Number Three is former pro wrestler Andre the Giant (and movie star, for you fans of "The Princess Bride"). Herd remembers Andre throwing 280-pound men physically out of the ring. 
Tiger Woods is Number Two. Cowherd says Woods is built like a football free safety. Cowherd says he was the only truly intimidating golfer of his time. 
For Number One, Colin Cowherd chose multi-game athlete Bo Jackson. In college, Jackson won the Heisman award, then made the major league baseball All-Star team, played in an NFL Pro Bowl. At 6"1' and 230 pounds, he was not physically intimidating, yet he was a superstar in baseball, football and even track and field back in his college days. "NFL football was his hobby," Herd says, "That was his version of whittling." 
Congrats to Shaq for yet another "Top Ten" listing… You can see the entire list and Cowherd's reasons for his rankings with the full video below.