Along with his many business and entertainment interests, Shaq continues to work in the area of health and wellness, too. Recently, he gave a talk and did an extended interview with the California-based charitable group Direct Relief. O'Neal talked about something very, very personal for him: heart health and the African-American community. 
Talking to Direct Relief staffers in Los Angeles recently, Shaq said "I wanted to be the one to help educate people out there." He's referring to statistics from the American Heart Association for heart disease among African Americans.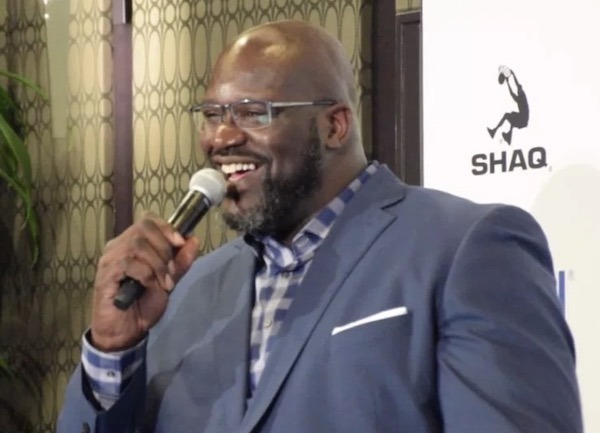 The numbers according to the Heart Association: a heart disease rate of 60.1% for black males and 57.1% for black females… compared to heart disease rates of 50.6% for white males and 43.4% for white females. In fact, the Centers for Disease Control says that between 1999-2017, non-Hispanic African Americans were more than twice as likely to die from heart disease than non-Hispanic Asian Americans.
Shaq was a huge presence (literally) in the NBA during his on-court seasons, winning three Finals MVP Awards and leading his teams to a total of four NBA Championships…and he played in 15 All-Star games. Now Shaq is bringing that on-court seriousness to getting the word out about heart disease. 
O'Neal does have a commercial relationship with a pharmaceutical company that makes a heart-related drug… but this is also a personal mission for Shaq, too. O'Neal's eldest son Shareef was found to have an electrical issue with his heart, which was corrected with surgery last year. The condition was discovered after he reportedly said he felt "funny" after basketball practice. 
It's well known that the name is not just Shaq… it's Doctor Shaq. O'Neal has a doctorate in Education. He's going to put that degree to work to help spread the word on health. "If I partner up with people that are experts who give me information, I can break it down, give it to the homeboys and homegirls. It's very simple you just gotta get checked out, go see your doctor," he said. 
"We do things different, we eat a lot of different foods, because that's what we were raised up on, but when you get older, a lot of times, that stuff's not healthy. So you go out, you get checked, you get a diagnosis from your doctor, he can help you go longer and that's what we want."
Shaq – who's used the "superman" name / label for himself, says he now recognizes he has to get some help in maintaining his good health. From his childhood, Shaq said he grew up without having a doctor he saw regularly, and even today is reluctant to visit doctors for routine ailments.
"I'm raised by a military drill sergeant, we don't get sick," he said. "We don't. We don't have time to get sick, we don't have time to mess around, we don't have time to complain," he told Direct Relief. 
Nowadays, Shaq says he tries to stick to the basics by eating healthy, getting plenty of sleep, and not drinking nor smoking cannabis.
Along with business and investing, Shaq does a lot of giving back, even though he doesn't really like that terminology. "Well, I don't call it giving back, I call it doing what you're supposed to do. This is something I was taught to do. I'm going to do it until the wheels come off," he said.
As an example, O'Neal said he prefers to give quietly, without a lot of hoopla. He's been known to simply go to a store, purchasing some printers and dropping them off at a school that needs them.
"I want to make people happy," Shaq says. "At the end of the day, when people say, 'I met Shaq,' I want them to say he was cool, period, end of discussion." 
You can watch the entire Shaq-talk with the video below!