The new school year is underway across much of the U.S., and the Big Man and another big friend are helping out with getting much-needed school supplies to kids who might not otherwise get what they need. 
With a little Shaq-help, online retail giant Amazon is putting its digital assistant Alexa to work to help kids everywhere. Under a brand-new program, anyone with an Alexa device of any size can simply say, "Alexa, donate to a Happy School Year." You'll be asked to confirm your request and order, and then the Amazon elves spring into action.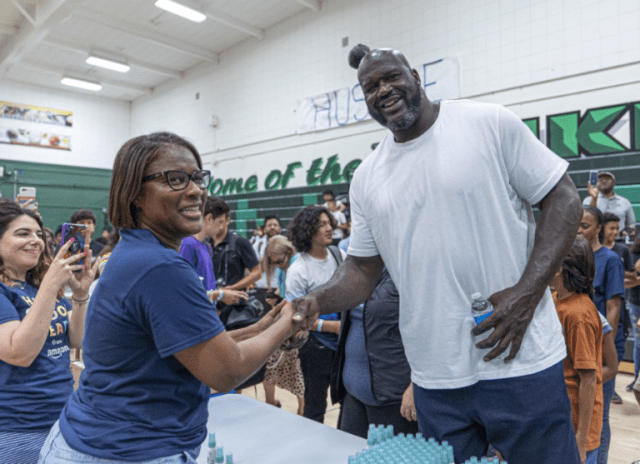 Amazon will send a backpack pre-packed with school supplies directly to the nationwide charity Communities in Schools (CIS). The pack and school supplies will be valued at about $25 dollars, so that's your donation. Each time anyone donates this way, they'll get a nice thank-you message – not just from Alexa – but from Shaq, who is a member of the National Board of Directors for CIS. 
A press release from the office of Amazon Alexa Vice President Chuck Moore said: "Alexa creates convenient time savers for busy customers and their families whether they are building a back-to-school shopping list, asking questions about products, purchasing items for their family, or making donations to the community." Moore added, "We can't wait to see the generosity of our customers this back-to-school season."
Along with their customers, Amazon is helping out as well. The company says that for every backpack donated to Happy School Year through Alexa during the campaign, Amazon will also donate pens, pencils, rulers, and notebooks to CIS… up to a total value of $200,000. The program runs through early September, so if you have an Alexa device helping you around the house, there's still time to help out with this awesome program. 
"Education is an important foundation for success," O'Neal said. "With the Shaq-to-School program, we provide classroom essentials to kids who need them most, allowing them to concentrate on their studies."
Wait…? What…? You don't have an Alexa? No worries, you can still help the Big Man make a difference for kids. Amazon and their subsidiary Zappos (the online shoe people) and Shaq are teaming up for a bit of a "road show" … visiting several cities around the country to do live, in-person back-to-school donation events as the new school season approaches. 
Early estimates are that at least 5,000 of the so-called Shaq-Packs (of course!) are being distributed across the country. With corporate donations from suppliers such as Yoobi, Pentel, 3M, Hasbro, Panasonic, JVC, and AmazonBasics. In some locations, the backs also include clothing such as a t-shirt or hoodie, and some will have new shoes as well. 
By the way, Amazon has other ways you can make a difference for schools in your area. Many schools (and other organizations) have created charity shopping lists on Amazon that list needed items for that particular school or group. For a complete list of the groups seeking charitable donations, check out smile.amazon.com/charitylists.