A new article in the online version of Forbes Magazine (think: big-time business), profiles eight sports celebrities who are making a little side-hustle out of off-court businesses. Of course Shaq made the list…of course! Did we say "little?" Yeah…not so much. 
As Forbes writer Karsten Strauss points out, one of the big problems for entrepreneurs starting out in new markets – everything from restaurants, car washes, or anything else – the problem is getting the public's attention and generating good publicity to get the new business properly launched with a good start. 
That's one problem big-name celebrities and sports figures usually don't have to worry about. They have major name and face recognition and can often use that built-in goodness to their business advantage. The Forbes article lists eight names you probably know, and some of the things they're doing with off-court businesses. And yes, Shaq is on the list! In no particular order, here are some of the big names on the list: 
The new Forbes list starts with current LA Lakers star LeBron James. It's virtually impossible to watch sports coverage on TV without seeing a commercial starring James in one way or another. Yet James – like Shaq – has also put his money to work by directly investing in some businesses. Most recently, James put about a million dollars into a franchise called Blaze Pizza. 
Like O'Neal and some of his investments, James is also a spokesman and franchisee for Blaze. ESPN reports James' original million dollar investment to be worth about 35 million dollars today. Nice!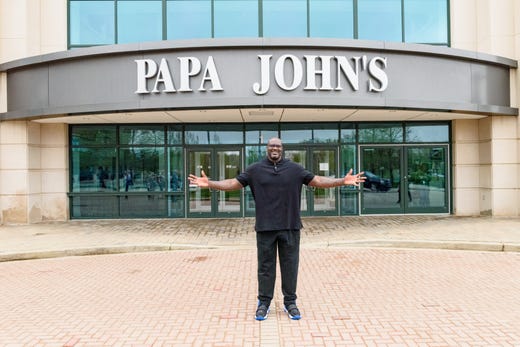 Shaquille O'Neal makes the list as one of the major players in corporate investing and promotion. O'Neal has incorporated franchising into his portfolio in a big way. He's big into several franchises, including Five Guys Burgers, Krispy Kreme Donuts, Papa John's Pizza and more. (As we've written about in other posts, O'Neal is also on the Board of Directors for Papa John's.) 
Along with the position on the Board, Shaq owns at least eight of the pizza franchise locations in the Atlanta area, and he's said in the past he's interested in picking up even more. Recently, Shaq attended a company Board meeting, and posted some behind-the-scenes videos of new products (see previous posts here on ShaqFu Radio). 
Here's a few more big names from the Forbes list, some of them you might not have considered to be heavily in business: 
Floyd Mayweather, Jr. is one of the best boxers in the history of the sport, and he's been using his name recognition directly in a sports-related business of his own. The former champ has launched his own fitness franchise earlier this year: Mayweather Boxing + Fitness. The flagship store is already up and running in Los Angeles, and plans are in the works for 100 additional locations in the future.
Also on the list, New Orleans Saints football quarterback Drew Brees. Like several others on the list, Brees has invested in food-related franchises such as  Jimmy John's, Walk-On's Bistreaux & Bar, Happy's Irish Pub and Dunkin' Donuts. As a sports-guy, he's also invested in fitness brand Title Boxing Club.
Brees likes the franchise model. Recently, he told Fox Business news that the franchise business model "gives people the opportunity to own their own business without having to go through the process of taking some crazy idea that they had and then go through the process of creating a business."
Others on the list include: golfer Phil Mickleson, former Laker Earvin "Magic" Johnson, former NY Yankee Alex (A-Rod) Rodriguez and another former NBA star, Jamal Mashburn. Mashburn has owned around 70 restaurants, including 32 Papa John's Pizza shops and 38 Outback Steakhouse franchises. Quite a collection!