It's another one of those "fantasy team roster" stories, but this one is centered around a team (and a city) that doesn't normally get a lot of attention or press over this type of thing: Cleveland. 
Sports website ClutchPoints.com has come up with a new story of the all-time greatest starting five for the Cleveland Cavaliers. I know… who would think of such a thing, right?? Well, ClutchPoints.com did, and of course the list includes our favorite big man, Shaquille O'Neal.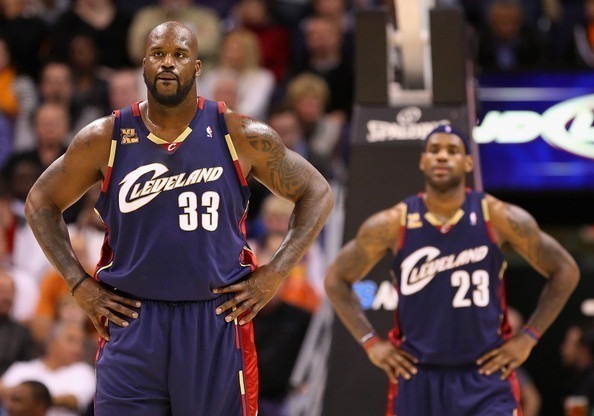 Yes, Shaq spent some time in the City by the Lake… and just for the record, this report was born and raised there, so we couldn't be happier (NBA-wise) to see this new post. The article is quick to point out that this lineup is not a reflection of the players in their absolute career prime, but it's fun anyway. And as ClutchPoints says, "Have fun with this on NBA 2K20, because it's not happening anywhere else." OK, on to the all-time Cavs lineup. Along with the top five, there are also a few Honorable Mentions.
Interestingly enough, Kyrie Irving is one of those HM's. ClutchPoints mentions that he's certainly working his way to a Hall of Fame position, but hasn't had the time to make a serious impact on the game just yet. And as far as his time in Cleveland goes, the website says there are three legendary point guards ahead of him on the roster. OK, on to the starters:
Point Guard: Walt Frazier. Sure, Frazier was a legend in New York, but he played his last three seasons in Cleveland. (Trust me, there's gonna be a lot of that "who knew" thing in this story…) As a Cav, Frazier only played a total of 66 games in those three seasons, but he made a definite impact. Even though he was listed as point guard, he was probably one of the first true "combo" guards to play the position. Across his career, Walt made seven All-Star teams, six All-NBA teams, seven All-Defensive teams, and was an NBA champion twice.
Shooting Guard: Dywane Wade. Another legend who did of his legendary work in another city. Interestingly, Wade came from Miami, and then returned there after two seasons with Cleveland. No doubt there was some support for the move from his buddy LeBron James (coming up next on the list). Speaking of Lebron, ClutchPoints says, "It's fair to wonder if he would have made a difference in Cleveland's last NBA Finals appearance in LeBron James' second tenure with the team." Good question! 
Small Forward: LeBron James. There's nothing really small about Lebron, who pretty much put the Cavs on his back and gave the team – and fans – their best years ever. ClutchPoints points out that no other player in NBA history can match James' longevity and consistency, not even Michael Jordan. It took him 13 years, but James finally fulfilled his promise to bring a championship to Cleveland for the 2015-2016 season.
Power Forward: Shawn Kemp. Kemp was a six-time All-Star and three-time All-NBA player and he did put together three great seasons with the Cavs. In fact, during the 1998-99 season, Kemp set his person high-scoring career number, 20.5 points per game.
Center: Shaquille O'Neal. Shaq played just one decent season with the Cavaliers, and it was the second-to-last in his career. By the time he got to Cleveland, Shaq had some frequent flyer miles already racked up. After leaving Los Angeles, there was another NBA Championship with the Miami Heat. At the end of his on-court career, there was some time in Phoenix with the Suns, in Cleveland, and then his final season (2010-2011) with the Boston Celtics. 
Finally, in case you were filling out the roster, ClutchPoints.com lists Point Guard Mark Price as their fav sixth man. The ClutchPoints story says it's a "travesty" that Price is not in the Hall of Fame. He made four All-Star and All-NBA teams while leading Cleveland to six playoff appearances, during what the story says was a "very tough" basketball era.