Another big-name sports star makes a donation to rebuild a high school running track in New England. Earlier this month, ShaqFu Radio reported on Shaq's donation to a fund to rebuild the dilapidated running track at the high school in Palmer, Massachusetts. Now, golfer Phil Mickleson is adding a nice donation of his own.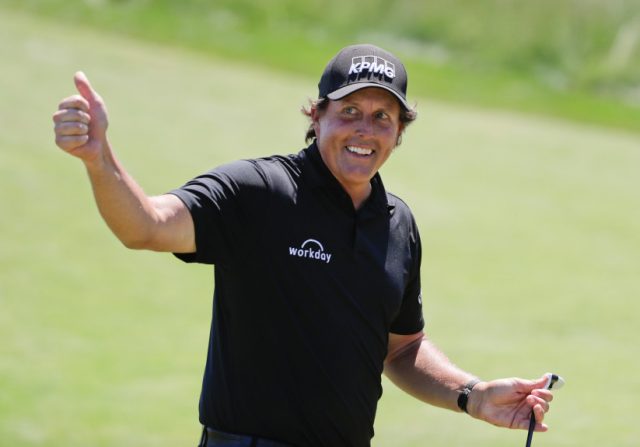 Before her death, Lisa Domnarski had started a campaign to rebuild the running track at the local high school. She talked about giving back to the school and town that brought she and her husband together. Matthew Domnarski says he intends to follow through with his wife's wish.
The big goal of the fundraiser was a half million dollars. (No final numbers have been released yet, but the fundraising was scheduled to end today (September 6), which would have been Lisa Domnarski's birthday. Within the first 72 hours, the fund had raised about $60,000, and now it's estimated that the fund is over $100,000 – donated by more than 1,500 contributors.
O'Neal's donation of $2500 had been the biggest single contribution to date, but now that's been eclipsed by Mickleson's donation of $10,000. A local news website in Massachusetts says Mickelson sent a $10,000 check to Palmer High School with the caveat that the money should be used to build and upgrade that running track.
After hearing of the donation, Maththew Domnarsky posted his thanks on Facebook. "Thank you, Lefty!" he wrote. "It's been one month and two days since she passed away and this second generous celebrity support means a lot to me."
As mentioned in a previous post, Shaq (and obviously Mickleson as well) recognize the power of athletics to bring a community together and help individuals reach personal goals. A statement from Shaq's business office reads: "As a former professional athlete, Mr. O'Neal recognizes the importance of having adequate equipment to realize one's potential in athletics, and also in every aspect of life. Palmer deserves … functioning equipment." Best wishes to Domnarsky and his plans to honor his wife and help his local community.