Yet another one of those "all-time best" lists is out for the NBA, and yet again our man Shaq is on it (of course!). This time, the list is from popular sports website Bleacher Report, and the subject is "Best NBA Dunkers of All Time." By the way, we're talking about jamming the rock through the hoop, not the donut-and-coffee type. Yet, come to think of it, with Shaq's investment in and love for Krispy Kreme donuts, it could be both, couldn't it? Anyway…
As Bleacher Report says: "Nothing better captures the jaw-dropping, physics-defying athleticism of the Association than above-the-rim artwork. Through power, grace or a combination of the two, high-flying acrobats wow crowds, spark viral fires and keep us talking, texting and tweeting for weeks."
In no particular order, the article lists some of the most well-known names of the game, both past and present. Here are some of the highlights of the best-dunker list…thanks again to Bleacher Report for the story. You can check out the entire list and see more videos here: https://bleacherreport.com/articles/2850719-honoring-the-nbas-greatest-in-game-dunkers-of-all-time
One of the names on the list is there for his sky-high moves that came not in any NBA action, but it the Olympics. During the 2000 Olympics, Vince Carter sky-rocketed over the top of 7'2″ French center Frederic Weis and wowed even the player on the wrong side of the poster. Weiss would later say "[Carter] deserves to make history. Sadly for me, I was on the video, too. I learned people can fly."
From the not-so-distant past, Darryl Dawkins makes the list. BR says he didn't just rock rims… he wrecked them, and shattered backboards, too. Side note: the Basketball Reference guide lists Dawkins as having seven (count 'em!) different nicknames: Chocolate Thunder, Double D, Dawk, Dr. Dunk, Sir Slam, Zandokan the Mad Dunker.
His slams sparked the NBA to introduce breakaway rims, and the rule against hanging on the rim became known as the Dawkins rule.
Immortalized as Doctor J – Julius Erving helped take the early-on ABA airborne and later did the same for the NBA. In a poetic description of Dr. J's moves, sports writer Pete Axthelm once said, "The Doctor not only leaps and stays aloft longer than most players dream possible, but he uses his air time to transform his sport into graceful ballet, breath-taking drama or science-fiction fantasy depending upon his mood of the moment and the needs of his team."
Of course the list had to include Micheal Jordan… I mean really, "Air Jordan"?? Bleacher Report put it like this: Time stopped when Jordan took off. Fans held their breath. Cameras snapped as many photos as possible. Defenders braced for the worst. He just stuck his tongue out as the embodiment of the calm before the storm…and THEN the magic happened. Some kind of crazy-angled move, swooping and flying, usually over some all-world defender.
Back in 2017, LeBron James (yes, he's on the list) told reporters, "I think I fell in love with the game because of Mike… When you're growing up and you're seeing Michael Jordan, it's almost like a god."
Speaking of LeBron… Well, in the words of BR, LeBron James isn't fair. "Players aren't supposed to be this big, this strong and powered by a jet pack. When he has a head of steam, he's a Mack truck motoring down the highway. Anyone in his path is either clearing out of said path or getting bulldozed (or leapfrogged)."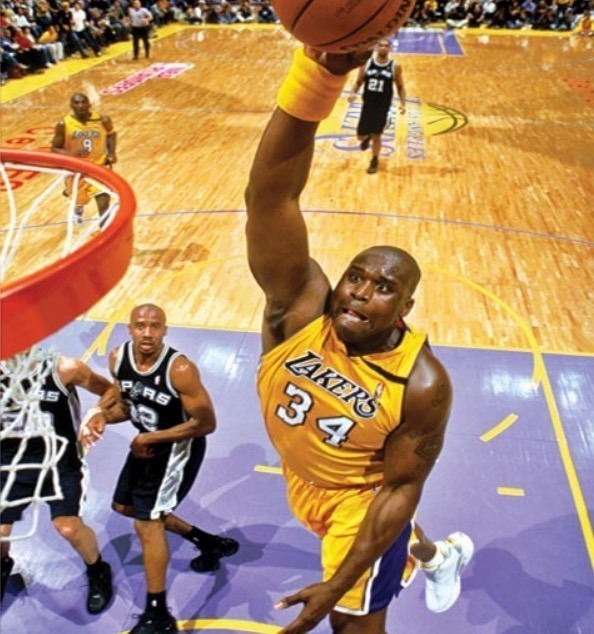 Finally, Shaquille O'Neal. In breaking down the Big Man's dunking resume, BR listed some of the highlights:
Two dunks over Hakeem Olajuwon
Two dunks over Alonzo Mourning
One dunk over Dikembe Mutombo
Two broken basketball hoops (yes, the entire hoops)
One fast break executed and finished by a 7'1″ center
Speaking of his friend and TNT NBA commentator, Ernie Johnson has said, "Shaq was a phenomenon… He came into the league with this ridiculous skill set of size, strength and agility combined with a magnetic personality and was simply a marvel to watch."
Bleacher Report reports O'Neal was overpowering and a dominant force right from the start. If players his size weren't rare enough, his mobility and athleticism separated him from even that exclusive company.
Others on the list: Dominique Wilkins, Clyde Drexler, Blake Griffin and Shawn Kemp. Keep 'em flying, boys.