If you know anything about the fashion industry (what, you don't?), then you know planning and promotions for all the seasonal releases starts way, way in advance of the actual season. Popular big-box retailer JC Penney has been putting in the work on a new line of "big and tall" men's clothing. Big and tall? That can only mean one person is the perfect size to be the company's brand ambassador – our man Shaq. 
To get the look just right, JCP and Shaq have teamed up with New York modeling agency Wilhemina Models. They've been working through the summer on a search for big and tall men who will be the faces (and bodies) of the new line.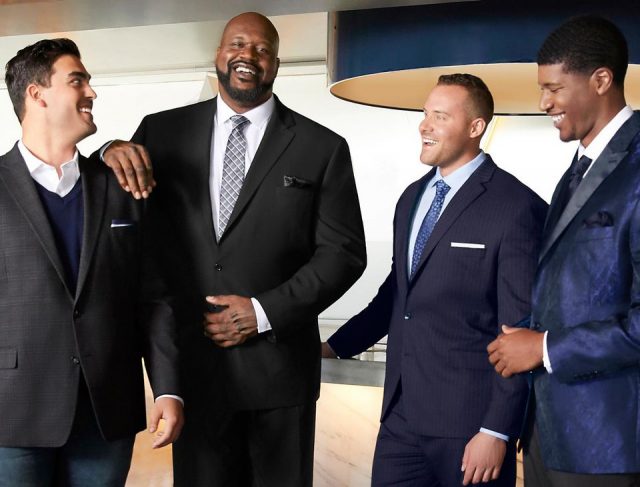 JC Penney has been really "upping their game" with high-fashion menswear. With inspiration and help from one of the biggest big and tall men out there, the new line is called (what else?) Shaquille O'Neal XLG. Penney's said in a release: "The iconic creation has now inspired a series of styles with its own unique heritage, collectively known as Shaquille O'Neal XLG. With big & tall men in mind, each piece is designed with classic understated fabrics combined with modern fits, allowing for comfort without sacrificing style."
JCP: These suits are part JC Penney Big & Tall business which, since its launch onto the market, has established itself as an affordable tailored suiting brand.
Fun fact: About one third of American men fall into the categories of big or tall… or both. Of course many stores offer larger sizes, but stores and lines specifically designed for big and tall men account for about ten percent of spending in that category. 
When it came to the search, guys showed up in a big way (pun intended). The model search campaign took in over 15,000 entries in just one month! By the time it was over, 10 guys were awarded contracts with Wilhelmina's Big & Tall "Titans" division, as well as the opportunity to model alongside Shaq in the Fall JCPenney Big & Tall campaign. The new promotion will feature Shaq's owned named collection along with JCPenney's popular Big & Tall private brand, The Foundry Big & Tall Supply Co.
In an interview with the online version of Forbes Magazine, Shaq said, "When I launched my Shaquille O'Neal XLG collection with JCPenney, it was a challenge to find big & tall guys for the campaign. Wilhelmina Models had to hit the streets to help us find a few good men that fit the bill. I couldn't believe there was such a shortage of guys to model my collection."
Shaq noticed the differences between guys and ladies in the modeling business: "The model industry has changed when it comes to real women, but not so much for men. JCPenney and I decided to take this issue head on and partnered with Wilhelmina to give big & tall guys the recognition they deserve, and that's how Shaquille O'Neal's Big & Tall Model Search was born."
O'Neal put into words what lots of big men already know: Shopping for affordable clothes – especially business-class suits and more – is not easy for guys his size. Shaq said he made sure everything in the collection is less than $200… so any big / tall guy can look good… to "look sexy and not go broke doing it." 
Keep an eye out for the new Shaquille O'Neal XLG line…coming to a JC Penney near you, and online, of course.