In case you hadn't seen it online in sports news, there's been more than a few raised eyebrows and confused looks with Kobe Bryant's recent comments on Shaquille O'Neal. The quote that got all the headlines was Kobe saying he'd "have a dozen rings" (NBA Championships) if Shaq had practices more and had a better work ethic. 
Seems Shaq and Kobe have handled the matter with a few tweet-based jokes and quips, and it's not gotten out of control… a very good thing. We'll never know for sure what started the whole thing, but here's a theory: On his radio show ESPN's analyst Stephen A. Smith named Shaq as the dominant force in the history of the NBA, putting him ahead of some legendary players. Did putting the Big Man out there as an all-time best ruffle the feathers of some of Shaq's former teammates? As we've already said, the truth may never be known. Nice coincidence, though….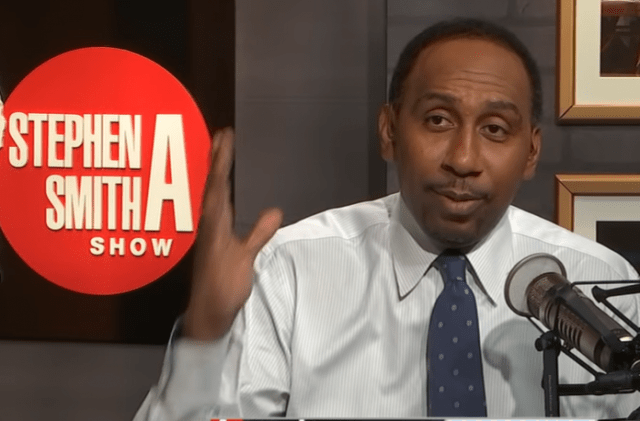 On his radio show, Stephen A said this: "I know a lot of people who look at me aren't going to like this. Shaq in his prime, how the hell could you prefer Kobe in his prime? Ladies and gentleman, it's simple. Shaquille O'Neal is the biggest force I have ever seen in the history of basketball. I only got tapes of Wilt Chamberlain, I saw Shaquille O'Neal."
You can see the entire video here:
Still, it seems Smith did not say that "dominance" – as in Shaq being the most dominant ever – translates into wins and championships. Smith said a big man (a center) needs a wingman / guard to "take care of him," while guards and other wing players don't need anyone to take care of them.  added that centers rely on guards while guards don't need dominant centers.
"Shaquille O'Neal, at 325, 350 pound is the most dominant force I have ever seen on a basketball court, but I would never ever pick a center over a guard or a wing player because the big man needs the guard to take care of him. The guard don't need that," Smith said. He pointed out how other greats like Micheal Jordan won all his titles with an assortment of not-so-world-class centers in his Chicago years. 
Smith again: "Shaquille O'Neal… Did he win the title with Eddie Jones, Nick Van Exel? How about with Penny Hardaway? Dennis Scott? Did he win a title? No. But when he had Kobe, what happened? When he had Dwyane Wade, what happened? I'm going to take a guard/wing player over a big man, a 7-foot bona fide center any day of the week."
While praising Shaq, Smith also noted his comments might be taken the wrong way. Smith made sure he wasn't "insulting" Shaq… saying he wasn't "scared" of him… but then kinda, sorta, said he was… Speaking of covering tracks (or his behind), Kobe has since tweeted that he has "nothing but love" for his former teammate. Let's all be friends, yes?