Netflix subscribers have a chance to see our friend Shaquille O'Neal in a new home-screen movie that should be out in time for Halloween. It's a Halloween-themed movie, so that kinda makes sense, right? 
The movie is named "Hubie Halloween." The star and producer is TV funnyman Adam Sandler, who often makes movies with a regular group of co-stars. That group often includes not only Hollywood stars, but also names and faces from the sports world. Previous Sandler productions have included Shaq, sports reporter and TV host Dan Patrick and other "regular" stars like Rob Schneider.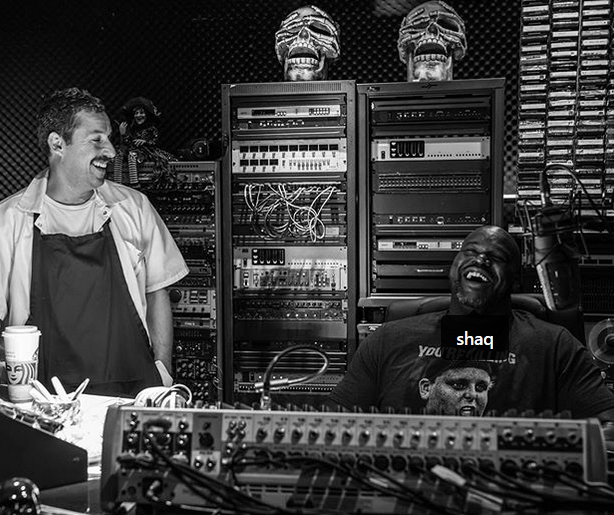 Shaq appeared in past Sandler productions like "Blended" and "Grown Ups 2." In pics released on Sandler's Instagram account, Shaq showed up filming with Sandler in Salem, Massachusetts during the last scheduled days of in-the-field filming. 
Sandler has an exclusive deal with Netflix to produce movies for the online streaming service. A native of New Hampshire, Sandler often does location filming in New England. As the location shooting came to a close, Sandler wrote on his Twitter account to say thanks for "all the hospitality" from folks in Salem and around the state while shooting the movie over the summer. 
As we said, the movie is called "Hubie Halloween," so obviously it's all about our favorite ghosts-and-goblins holiday. It's not exactly clear what part Shaq will play in the movie. 
What's known about the move: In the film, Sandler plays Hubie Dubois, a good-natured but odd Salem resident who is widely mocked for his obsessive devotion to the town's annual Halloween parade. But when a real murder case disrupts the city's celebration, it's up to Hubie to crack the case. Netflix hasn't issued an official release date for the movie yet, but it IS a Halloween movie… so you can probably guess the rest. 
While in Massachusetts, hung around for a few days after the movie-making to show off his DJ skills. Shaq – in the guise of his alter-ego DJ Diesel – put in some work on a recent Saturday night at The Grand club at the Seaport entertainment district in Boston. Of course DJ Diesel has been working hard all summer, appearing and playing at high-profile venues like Lollapalooza in Chicago, and Tomorrowland in Boom, Belgium (don't you love that town name?). 
Shaq / Diesel got good reviews for his DJ work… along with The Grand regulars, some Boston sports favorites were also in attendance, including the owner of the Celtics, Wyc Grousbeck, and New England Patriots teammates Devin and Jason McCourty.