It's not even springtime, but love is definitely in the air…at least for some former and now a new, current member of the Los Angeles. Legends of the recent past Kobe Bryant and Shaquille O'Neal are buddy-buddy again… even though we're not sure there was ever a real beef between them in recent weeks. Now, Dwight Howard is looking for some love as well, as he re-joins the team. 
Here's the back-story: Over the summer (in August, to be exact), Kobe said in a media interview that he would have more than doubled his number of NBA titles if Shaq was more serious about his fitness in his playing days. In case you missed it, here's the exact (cleaned up) quote: "I wish he was in the gym. I would've had f–king 12 rings," he said. "My God, yeah. Wouldn't even be close."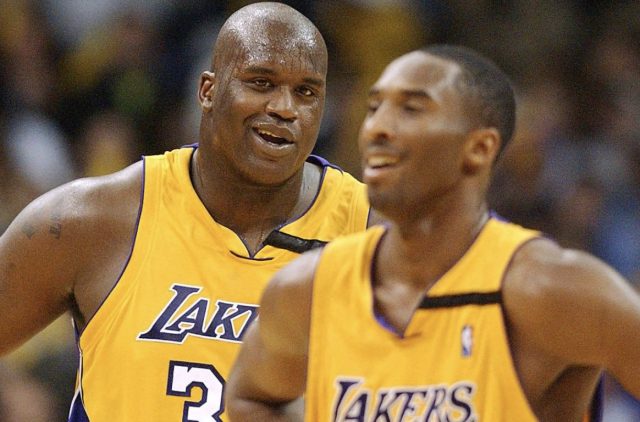 Yet in more recent appearances – including a late-night TV appearance on the Jimmy Kimmel Show – Kobe said his comments about Shaq being "lazy" were taken out of context. You can check out the video for yourself… but basically Kobe said the comments on Shaq's work ethic were made "tongue-in-cheek."
And it's true… that the full telling of the original Kobe interview had plenty of good things to say about the Big Man. Bryant went as far as to say he thought Shaq would have eclipsed Michael Jordan as the best NBA player in history… if he was more dedicated to his craft. OK, maybe not the most supportive / loving / BFF thing to say, but still pretty powerful. 
Here's Kobe's full appearance on The Jimmy Kimmel Show:
More straight from Kobe: "He'd be the greatest of all time. He'd be the first to tell you that, for sure. This guy was a force like I have never seen. It was crazy. Generally guys at that size are a little timid and they don't want to be tall, they don't want to be big. Man, this dude, he did not care. He was mean, he was nasty, he was competitive, he was vindictive."
On the Kimmel Show and elsewhere, Bryant has been quick to shut down any talk of real problems with the Big Aristotle, though… Now he's making it clear even the original comments were meant as praise.
On Kimmel: "It was really a compliment. People missed the whole first half of that, which I said 'he was the most dominant player I'd ever seen and I felt like he could've been the greatest of all time. People kind of missed that part of it — they caught onto the lazy part. But, that was like, I kinda said that tongue-in-cheek! We weren't going to win 12 rings!"
Kobe said he reached out the Shaq (at least in a virtual, texting sort of way), after the comments went viral to say "No hard feelings, I still got love for you!"
Now with all that Laker love floating around, a former and future Laker is hoping to get a little of that for himself. Dwight Howard said in an interview with the Associated Press that he's done a big mental upgrade and is ready for Prime Time in LA again. 
Howard has been the target of some tough words from both Kobe and Shaq in the past few weeks, but says he's not bothered by it all. 
"Shaq and Kobe are some of the greatest players ever to play this game," Howard said. "I have nothing but love and respect for those guys and what they've been able to accomplish. … My job is to come here and help this team win. It's not to get into any fights or arguments with Shaq or Kobe or anybody. I won't let anything distract me from winning a championship."
So far, no word from either Shaq or Kobe over welcoming Howard back to the Lakers fold. Time – and how Howard plays in the upcoming NBA season – will tell.