To say it was a BIG night in Las Vegas would be a bit of an understatement… One of the biggest men in sports and one of the biggest bands in rock teaming up in a fundraiser for pediatric cancer research in the biggest entertainment city on the planet. Big? Oh, yeah…
Businessman, investor and former NBA superstar Shaquille O'Neal joined the band Imagine Dragons at the Wynn Las Vegas Resort earlier this month for a benefit concert and auction for the Tyler Robinson Foundation. Tyler – from Provo, Utah – was a big Imagine Dragons fan… unfortunately, he passed from brain cancer at the age of 17 back in 2013.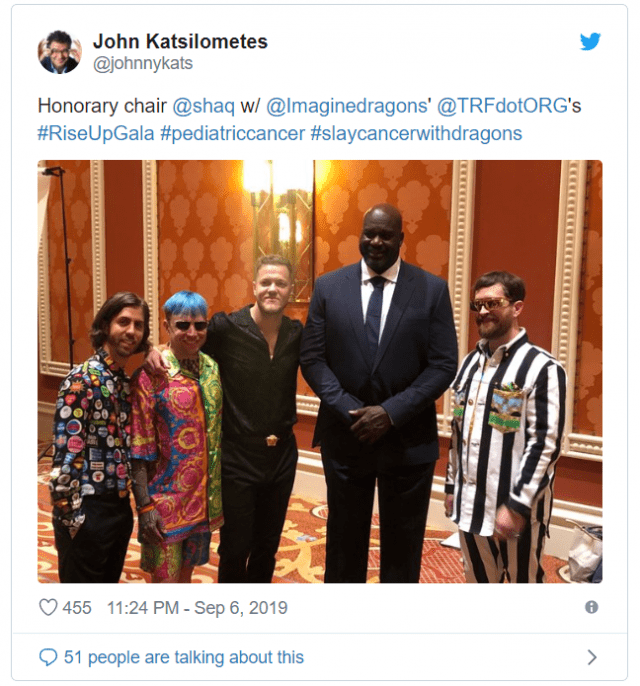 Shaq served as honorary chairman of the night's concert and events. The big man has several business interests in Vegas, including one of his new Big Chicken restaurants right across from the Hard Rock Hotel. 
Almost 900 people attended the event; the sixth annual TRF Gala in the Wynn LaTour Ballroom. Imagine Dragons played a private concert that included an acoustic set highlighted by powerful performances of "Believer" and "Radioactive," among other hits.
Big-name rock band… big name NBA superstar / businessman. Who got more starstruck? Several folks got to see the excitement on Dragons' front man Dan Reynolds with Shaq. "Can you believe this?" he told the Las Vegas Review-Journal newspaper as he nervously punched in the digits. "I am getting Shaq's cell number right now."
The fundraising goal for the night was two and a half million dollars… thanks to Shaq, the band and the crowd, that number was blown out of the water… a total of $3.2 million was received for the Foundation. One of the items up for charity auction? One of Shaq's size-23 wingtip shoes. One of the bidders for the footwear said "it looked like a toy boat." 
Shaq not only put his shoe up for auction (no word on the final price received, if indeed it did sell), but the big man randomly announced $15,000 donations to the Foundation at several points during the night. 
The band members looked the part, too. All four Dragons – leader Reynolds, guitarist Wayne Sermon, drummer Daniel Platzman and bassist Ben McKee — were dressed for the all dressed in knockout colorful gear from Versace. There was even an idea to auction off the clothes, but that didn't happen. (What would the boys wear for the rest of the night?) The bands instruments had already been sold off. 
Along with Shaq, Las Vegas mayor Las Vegas Mayor Carolyn Goodman was there. The day of the gala was proclaimed as Imagine Dragons Day…and and band was given a key to the city.