Honestly, this reporter didn't know what a "diss track" was when he started writing this post. A little bit of "background research" (fancy reporters' terminology) and I find that it means some kind of a rap track that "disses" another person. Well, that's exactly what's going on between Shaquille O'Neal and Damian Lillard this week. 
Lillard is a current all-star player with the Portland Trail Blazers. We all know Shaq's on-court history, so no need to repeat that here. Of course Shaq's alter-ego, DJ Diesel is also well known to the ShaqFu Radio family. Shaq / Diesel has spent the summer at various five-star nightclubs and world music festivals, playing and moshing it up as the world's biggest rap / hip-hop DJ. (See previous posts here on ShaqFuRadio.com for more of those posts.)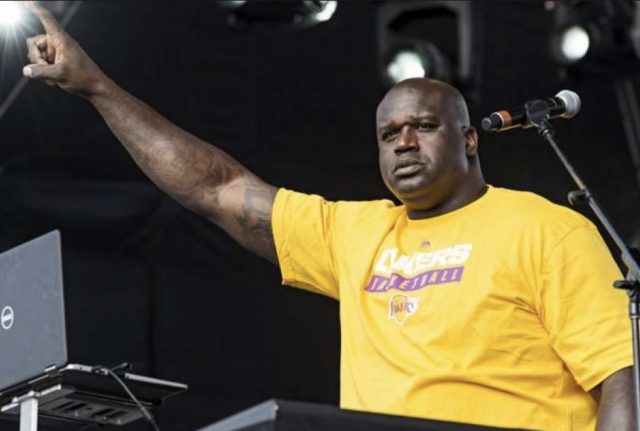 As for Lillard, he's very serious about his music career as well, and he's got some sky-high aspirations. In an interview with TMZ earlier this summer Lillard said he was setting his sights not just on NBA success, but winning a musical Grammy Award as well. He's got a new album out called "Big D.O.L.L.A." and he's been pushing it hard since it dropped. For those keeping score at home, Lillard's rap name is "Dame D.O.L.L.A. Wonder if he knows "dame" is a female thing…?
Lillard recently appeared on The Joe Budden Podcast, claiming he was a better rapper than Shaq… and so it was Game On. 
Shaq posted his diss track right away. You can hear the entire thing by clicking here: https://www.air.tv/watch?v=16fd1pYaTKeHb4COIvAwmQ
Highlights: Shaq's song doesn't have the best audio quality, but the Hall of Famer still spit slick shots over Dr. Dre's "What's The Difference" instrumental. The Big Man dropped lines such as "MVP candidate, you are not one/Platinum plaques on my wall, go and get you some" and "Call me when you get a back-to-back-to-back/Why would I wanna be a rapper, rappers wanna be Shaq."
Lillard fired back with his own recording, called "Reign Reign Go Away." You can hear the entire rap on SoundCloud – click here. https://soundcloud.com/damianlillard0/dame-dolla-reign-reign-go-away
Highlights: The Portland Trailblazers point guard staked his claim as the best baller/rapper while throwing jabs at Shaq. "Ole Icy Hot poster boy, TNT snitching/You big man hating, mad at my existence/Had a song with Bad Boy/Well I'm Jordan to the Pistons," he rapped.
Dame then closed it out by declaring, "You had a moment OG, you the pioneer/But I done reached the top of this point and the climb is clear/All my bars is colder than any climate that's near/So if you looking for the stop to the reign, you could find it here."
So, judges…final score? Sports website TheBigLead.com called it a win for Shaq. Breaking it down (thanks to TheBigLead.com for the knowledge): Lillard hit all of Shaq's usual targets: that Kobe won all the NBA Titles, that he's gone soft with all his TV time, that he was out of shape during his time with the Cleveland Cavaliers. Heck, he even mentioned Shaq's part in MJ's "Space Jam" movie from years ago. 
Still, TheBigLead.com said Dame D.O.L.L.A. fell short of DJ Diesel. Shaq got in a few great zingers on how he "ain't even Trevor Ariza." High scores for pointing out how long Shaq's been in the music biz, dropping names like Jay-Z and Lauryn Hill, and even E-40. 
According to TheBigLead, "Maybe it's something about the old-school delivery that evokes memories of the glorious rap battles of the past, but Shaq's track just hits harder. Dame D.O.L.L.A made a strong showing, but Shaq still reigns supreme until Lillard can match his resume, on or off the court."