Sure, we all know that lots of big-name sports stars have big-time investments in businesses of all kinds, including restaurants and fast-food outlets. We're lookin' at you, Shaq. A new post at Sportscasting.com shows a list of some other well known names, and their favorite fast food…not for investing, but for eating. Warm up the leftovers and check out the names (and foods).
Shaq: Still workin' it. Throughout his career and continuing to this day, nobody seems to have more sponsorship and brand-ambassador deals than our favorite big man, Shaq. Fast-food factoid: In his prime, Shaq said he would always eat fast-food chicken sandwiches as his post-game meal. Fast-forward to today and Shaq has his own "Big Chicken" shops (some even on board cruise ships!) and lots more. LOTS more. At last count, Shaq owns 155 Five Guys Burgers locations, 17 Auntie Anne's, (pretzels and more) and at least one Krispy Kreme. And don't even get us started on Shaq's relationship with Papa Johns' Pizza. Check other posts here on the ShaqFu Radio blog for all those details. (There's a lot going on…)
Taco Bell prevents mental health issues? Chicago Cubs' first baseman Anthony Rizzo apparently likes his Taco Bell now and then, but we're not sure if it's for medicinal purposes or not. In an interview with Sports Illustrated a while back, Rizzo said he checked in to "the Bell" every once in a while, "just to keep me sane." Cool. Lots cheaper than those Big Pharma pills!
Why bother with a kitchen? Phil Mickelson continues to win at the highest level on the PGA Tour, even though there are plenty of young guns coming up through the ranks of the game. When it comes to eating out, Mickleson loves a favorite of west coast fast-foodies: In-N-Out Burger. If you haven't ever seen one (let alone eat at one), it's because they're mostly in California and other left-coast areas. Still, "Leftie" says he loves In-N-Out so much, he's considered buying a franchise location. Not only that, Mickleson told Golf Digest magazine he would want to go one step further: "I would have put one in my backyard." Nice!
Now that's a celebration! Former Super Bowl MVP (with the Denver Broncos) Joe Flacco had one of those "I'm going to Disney World" moments. knows how to celebrate. After the Broncos' win in Super Bowl XLVII, Flacco made two major moves: He signed a six-year $120.6 million contract with the team and promptly hit up McDonald's for some chicken nuggets.
Of course that kind of publicity often leads to haters (don't we all know it?) Check out a tweet from a Buffalo Bills' fan: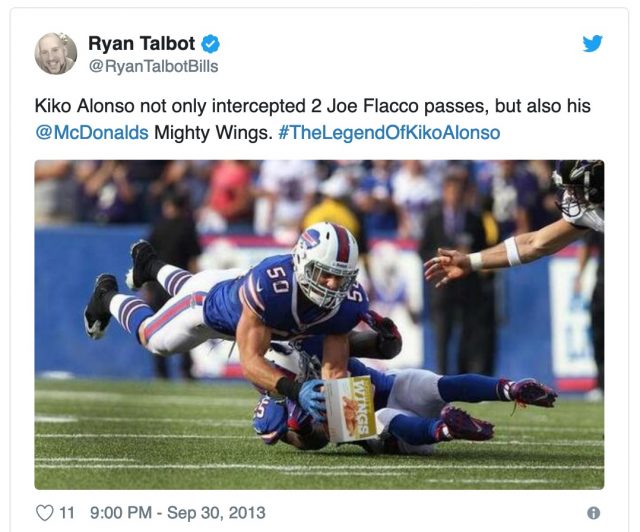 OK, here's a healthier option. Tennis star Venus Williams both owns and enjoys healthy drink outlet Jamba Juice. She owns four of the healthy juice shops in the Washington, DC area. Of course it's still 'technically' fast food (not exactly a sit-down dinner spot), yet Jamba is definitely a healthier option, compared to what a lot of other athletes are doing. Good for you, Ms. Williams. Good for you.
Saving weirdest for last. Olympic champion sprinter Usain Bolt traveled across the world to compete in the Olympic Games. In Beijing, China, there was even a McDonald's right at the Olympic Village. According to witness reports, Bolt apparently consumed 1,000 chicken nuggets in the 10 days of his time at the games. Yes, that's an average of 100 per day! A one-time thing? Nope. In Rio for the 2016 games, Bolt was spotted eating chicken nuggets once again. Bon Appetit!