OK, let's be honest here… how many NBA jerseys are in your closet? This reporter definitely has a few – shorts, too. Recently, the basketball fan site HoopLifeTV.com put together a list of the Top Five NBA team jerseys over the years. Now, it's important to note that for this list, it's all about the teams, and not any individual player. We've already talked about the popularity of Shaq's gear. You can check out other stories here on ShaqFu Radio for those details. For now, let's dig in to the top jerseys – based on teams. But guess what? Spoiler alert: The Big Man is going to influence this list, too.
A quick note on how HoopsLifeTV made its decisions on what constitutes a "best ever" NBA jersey. For this list, the site says they looked at both the overall look / color scheme / design of the jersey, and also the historic importance of the jersey. So here we go: Top Five NBA Jerseys of All Time.
#5 – Orlando Magic (1989-1998)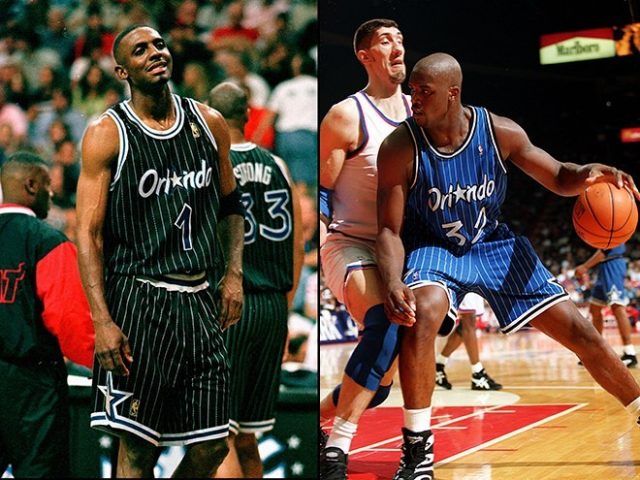 Look at that picture! Yes, that's Shaquille O'Neal on the right and teammate Anfernee Hardaway – both in top playing form back from the early 1990's. Those Orlando Magic jerseys featured high-fashion pinstripes – something pretty much unknown back in those days. While definitely good-looking, those unis also came from the absolute best days in Magic history.
#4 – Denver Nuggets (1982-1993) – Kind of an odd choice. Maybe it's the cool mountain-and-city-skyline logo on the even cooler blue jersey. A big part of the appeal might also be based on Nuggets superstar Dikembe Mutombo (drafted 1991)… he of the famous "not in my house" finger wag. Fashion-wise, the color scheme and rainbow graphics definitely helped put this Nuggets jersey on the list.
#3 – Boston Celtics (All-Time) – Here's where we get to "historic importance" of a jersey. Not really connected to any star player or team era, Celtics jerseys show a consistency and connection over the years that make them all-time classics. From the 1960s to the present, the Celtics have used consistent colors, type-styles and more. Let's face it, Celtics unis are (in the words of HoopsLifeTV), synonymous with championships. Pick your favorite Celtic: Bill Russell, Larry Bird, or Kevin Garnett… the jerseys are as consistent as the teams success.
#2 – Los Angeles Lakers – This is another one of those long-term, historic team-value picks. Similar to the Celtics, the Lakers purple and gold unis have been fairly consistent over the years. And also – like the Lakers – the jerseys are connected to the long-term success of the team. Stars such as Kareem Abdul-Jabbar, Magic Johnson, Kobe Bryant, and yes, Shaq – all represent championship success. When it comes to flashy jerseys, HoopLifeTV says "these are all-time classics without trying too hard."
#1 – Chicago Bulls – Last but not least, the Chicago Bulls, probably the ultimate classic look and design. Of course some of this popularity may be connected to the Bulls all-time favorite and GOAT (Greatest of All Time), Michael Jordan. As a hoops fan, the thought of a Bulls jersey no doubt brings MJ to mind – probably with tongue sticking out, flying to the rim. Jordan won six titles, including two three-peats in those jerseys and to this day, Chicago still wears the same design. Truly, all-time classics.