Never one to hide his feelings or not "speak his truth," Shaq recently had the opportunity to reflect on one aspect of his NBA playing days that's still – years later – left a sour taste in his mouth. This year will mark 20 years since the incident… for Shaq, it's just like yesterday.
In a recent interview with Fox Sports' "Fair Game" program with host Kristine Leahy, and written up in the Sports section of USA Today's online edition, Shaq talked openly (and sometimes in rough language), about the the 1999-2000 NBA season. It was that season – with Shaq in his best-ever years with the Los Angeles Lakers – that Shaq was almost – almost – voted Most Valuable Player by unanimous vote. 
That would have happened – for the first time in NBA history, by the way – except for sports reporter Fred Hickman, who was with cable news outlet CNN at the time. Hickman voted for Allen Iverson, who was with the Philadelphia 76ers at the time. History note: that 1999-2000 season was shortened by a player lockout by owners at the beginning of the season. 
Just for a little NBA history: That season, Iverson averaged 26,8 points per game, and earned him his first season scoring record, and getting the Sixers into the playoffs later that year. 
Yet that same season, O'Neal had his best stats of his career, averaging 29.7 points and 13.6 rebounds per game. Yes, better numbers that Iverson. At the end of the year, every other sportscaster with a vote gave it to Shaq. Not so much with Hickman. 
On the Fox program, Shaq didn't mince words: "Fred Idiot Hickman," O'Neal told host Leahy on Fair Game. "I hate him. I don't need to talk to him. There's nothing to apologize about because he destroyed history being a (expletive)."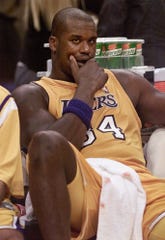 O'Neal went on to say during the interview that he believed his 1999-2000 season was one for the record books. He also mentioned the only man (so far) to win that MVP by unanimous vote – Golden State Warriors star Steph Curry. Shaq said it didn't make sense for Curry to make history with the unanimous vote and not him, considering his uber-dominant play that season. 
Shaq again: "Come on now…There wasn't anybody doing close to what I was doing (in 1999-2000). (Hickman) messed up history.  … Then a couple of years ago you're going to give Steph Curry unanimous (MVP). I love Steph. He's my guy. But come on." 
Even without the unanimous MVP vote, the Lakers did pretty well during that time in NBA history… winning NBA Championship  titles in a row at the height of O'Neal's dominance from 2000-02. 
For the record, Shaq was the first – but not the only – player to come within one vote of the unanimous selection as MVP. Current Laker Lebron James also came within one vote of unanimous – back in the 2012-2013 season when he was in Miami, with the Heat.