Shaq is back – doing one of his favorite things. And no, it's not playing hoops! Earlier this month, NBA legend and businessman / entrepreneur Shaquille O'Neal hosted a charity event at an elementary school in the town of McDonough, Georgia, just south of Atlanta. 
The event was co-sponsored by exclusive handbag and accessory company Vera Bradley and was called "Blessings in a Backpack." The company is doing a tour of schools and communities across the country… this particular experience was close to one of Shaq's homes (he lives – at least part time – in the Atlanta area). 
On their website, Blessings in a Backpack talks about their mission this way: Blessings in a Backpack mobilizes communities, individuals, and resources to provide food on the weekends for elementary school children across America who might otherwise go hungry. Every school-aged child in America has the nourishment needed to learn and grow. As a leader in the movement to end childhood hunger, Blessings in a Backpack strives to ensure children do not go hungry on the weekends by empowering individuals and communities to take action.
Other stats and important info: : There are more than 13 million children in the U.S. who are at risk of hunger. The consequences of hunger are much more than a growling stomach. Poor nutrition can result in a weaker immune system, increased hospitalization, lower IQ, shorter attention spans, and lower academic achievement. Children are fed during the school week by federal government programs, but we want to make sure they're getting nutritional meals over the weekend, too.
Blessings in a Backpack says it is currently feeding over 87,000 children in 1,092 schools in 45 U.S. states and the District of Columbia… Nice!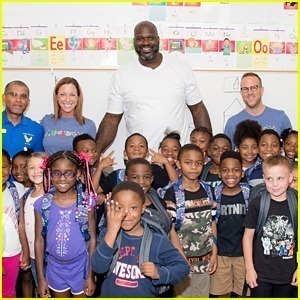 For this particular event, almost 800 students were given Vera Bradley school bags that included a Blessings in a Backpack weekend kit. They also enjoyed a carnival of back-to-school festivities with Shaq. 50 kids were also chosen from the school to receive a year's worth of weekend food kits.
Over the next month, Vera Bradley and Blessings in a Backpack will work together to mobilize communities, individuals, and resources to provide new backpacks and weekend food kits for children.
In addition to backpack distribution, Vera Bradley launched a fundraising campaign in stores and at VeraBradley.com to support Blessings in a Backpack in providing children with nutritional food throughout the school year, matching funds raised up to $50,000. 
Want to join Shaq with helping the kids: surf over to www.verabradley.com/blessings. Donate $10 and you'll get your very own mini backpack keychain as a thank you from Shaq and Vera Bradley.