As we know, Shaq is not only a big figure in the NBA and on TV, he's huge in the business world, too. He's got investments on many different companies, different parts of the economy (high-tech, food and dining, etc.) and lots more. 
When it comes to food, Shaq has several different business interests. Here on ShaqFu Radio, we've written a lot about his connection to Papa John's Pizza: He's on the company's Board of Directors (definitely a big deal), along with being the official TV spokesman and "brand ambassador." Along with those duties, Shaq is the owner of several other food-related businesses, including Krispy Kreme donuts and others. He's also created his own brand, called Big Chicken. Just like the name says, it's a chicken fast-food outlet. Right now, there's only one store in Las Vegas, but more are planned in the Los Angeles area…and Shaq has talked about putting one of the restaurants out to sea… as one of the food outlets on the cruise ship Carnival Radiance. (By the way, Shaq is also a brand ambassador for Carnival Cruise Lines… What a coincidence, right?) 
Seeing a great opportunity, one of the biggest animal-rights groups in the world has approached O'Neal with a big – what the group calls "game changing" – idea. PETA (People for the Ethical Treatment of Animals) has sent a letter to Shaq, suggesting a partnership and a plan to have the Big Chicken restaurants offer vegan alternatives on the menu. 
If you've watched any TV at all lately, you know that at least one of the major fast-food burger outlets has partnered with a company that makes meatless burger patties, and is offering them to the general public, along with its regular beef burgers. To call that move a major shift in the fast-food business is probably an understatement…and there's no word yet on how successful (or not) the public is taking to the no-beef burgers. 
PETA knows Shaq (and the rest of us) may be a bit skeptical when it comes to doing the same with no-chicken / chicken food. So they've offered to treat Shaq to a free dinner of vegan chicken wings (one of the big man's favorites) to show him how good (and real-chicken-like) the product can be.  (No word yet on if he's accepted the offer.) 
In a press release PETA said: "Shaq has an opportunity to help meet the booming demand for vegan fare, protect animals and the environment, and make a slam-dunk business decision. PETA is urging him to embrace the next big thing, and that's vegan dining."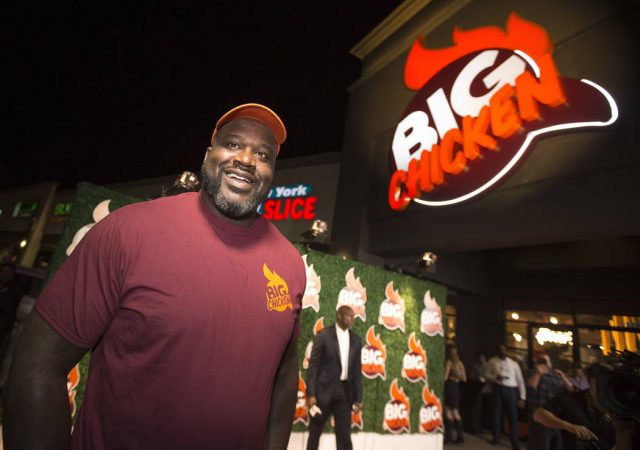 In an open letter to O'Neal, PETA wrote: 
We read about Big Chicken's second location, and we have a great idea! Let's partner together to get you in on the vegan chicken craze that's sweeping the country. As an investor in Beyond Meat, you probably heard that when vegan chicken recently debuted at a KFC location in Atlanta, it far outscored the sale of traditional nuggets and sold out in just five hours.
PETA says the business numbers cannot be ignored, saying that between 2014 and 2017, there has been a 600% increase in people who identified as vegan, and that other major fast-food chains like Carl's Jr., Del Taco, Subway, Dunkin', TGI Fridays and Blaze Pizza to add vegan meat to their menus. PETA points out that other restaurants operated by high-profile names in LA are quickly adding vegan options, including (as mentioned) Blaze Pizza, which includes fellow NBA star LeBron James as an investor / owner. 
No word yet if Shaq is giving serious consideration to the PETA offer. We'll keep an eye on the (Big) Chicken coup to see what happens next. Stay tuned…