Shaquille O'Neal – as his alter-ego character DJ Diesel – has been making plenty of news and some high-profile appearances lately. Recently, Shaq (or should we say Diesel) was in Las Vegas for a big party and music business conference called JBL Fest. 
Shaq is a brand ambassador for JBL, which manufactures audio equipment for live performances, DJ's, radio and TV stations and lots more. You may even have a set of JBL headphones or earbuds yourself. 
Catching a few spare moments from the Big Man, a reporter from the local newspaper – the Las Vegas Review-Journal – sat down to talk music, DJ'ing and more. Big shoutout to the Review-Journal. To see the full story, check it out here: https://www.reviewjournal.com/sports/basketball/shaquille-oneal-aka-dj-diesel-talks-about-his-love-for-music-in-las-vegas-stop-1868588/
For Shaq / DJ Diesel, music and live appearances are a very, very big part of his life. "I definitely take it seriously because when I'm performing and you're paying money to watch me perform, it's my duty to give you your money's worth and more."
Asked what he loves about the job – what he considers to be the most rewarding aspect of playing for a big, excited crowd, Shaq compared it to a big NBA game: "To DJ and see 100,000 kids jump up and down. … It's like being in a game in Chicago against (Michael) Jordan, and everything is going. Free throws. Fadeaways. Dunking on people. For me, now, (DJing) gives me the gratification of a Game 7. I'm an adrenaline junkie. High school, college, AAU, Olympics. I live on adrenaline."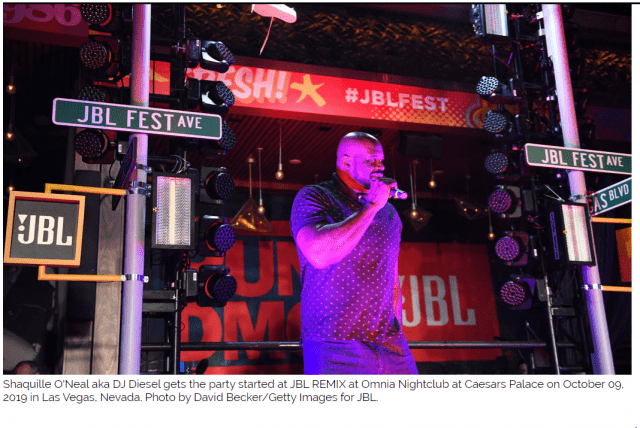 Of course no interview with Shaq would be complete without a mention of the current rap battle (Is that the right word? We're not so sure…) between Shaq and Portland Trail Blazers All-Star Damian Lillard. The two have swapped "dis" records. There's a lot more about that on-going story here on ShaqFu Radio… check out some of the recent previous posts for all the deets. 
Asked if he was surprised that Lillard said he was the better rapper, DJ Diesel said, "I was kind of surprised, but it's all about competition. I think we're bringing the essence of hip-hop back, believe it or not. Two basketball players. That's how it all started for me. … It's not a disrespectful thing. He can flow. He's got bars, but if you say you're a better writer than me, I'm going to write a paper, you're going to write a paper, and we're going to let the editor decide who's the better writer. When you say you're a better rapper, hey. I'm just having some fun with it. … But I'm done with it."
Hmmm… Shaq says he's done with it? We'll see! Still, Shaq says he plays be the rules when it comes to writing his dis tracks. "You have to say stuff that stings without going too personal…. I'm not going to get personal. I'm not going to attack his family. But when you're an MC, you've got to be clever in the words. 
Shaq says his mother actually told him it was time to move on. "I did my two (dis tracks), my mama called me and said, "Cut it out." So now Shaq says he's "just going to focus on DJing now."