Talk about BIG inspiration! Our favorite big man, Shaquille O'Neal, is out visiting school kids, talking about dreaming big and creating a great life. 
Recently, as part of his partnership with technology company Epson and the Communities in Schools (Los Angeles) program, Shaq visited the kids at Daniel Webster Middle School. Joining Shaq was Epson CEO Keith Kratzberg (see the giant-sized selfie below). For Shaq and Epson, it's all about dreaming big and using technology to encourage students to pursue those dreams and take advantage of every opportunity available.
Not only an NBA champ, Shaq is a big time business leader, brand ambassador and philanthropist. He and Kratzberg each spoke to the kids about their own career dreams, and how a good, strong education helped shape them into who they are today. 
Of course there was a little business in there, too. Epson showed off some of their new printers and other gadgets…all aimed at letting students "experience how impactful, vibrant and life-like their school work and homework can be." Festivities also included a school-wide pep rally, followed by Shaq and Kratzberg celebrating the school's department heads for all they do for their students (including a presentation of Epson printing and home theater solutions.)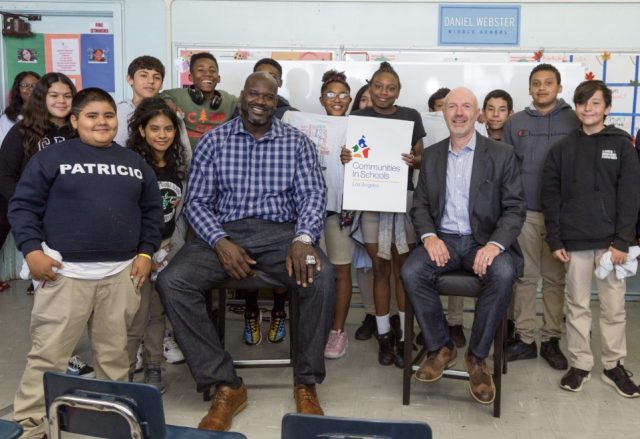 Shaq said, "I believe that technology can take education to another level for kids, making it an exciting and fun experience. The kids at Daniel Webster Middle School are definitely on the right track with big hopes and dreams, and I'm excited to share tech tools to help them reach those goals."
Here's more information about the program, quoted from an Epson press release: Building on its commitment to education, Epson recently launched "Epson and Shaq Give Back," a new initiative in collaboration with Communities In Schools (CIS) dedicated to creating a transformative learning environment to help expand students' imaginations, inspire career dreams, and motivate them to dream big using Epson technology. Communities In Schools works inside schools empowering students to stay in school and on a path to graduation. The partnership between CIS and the "Epson and Shaq Give Back" program will ensure more schools gain access to the technology tools they need to help their students stay focused, motivated and moving forward.
Here's more about the CIS program: Communities In Schools (CIS) is the nation's largest organization dedicated to empowering at-risk students to stay in school and on a path to a brighter future. Working directly inside more than 2,300 schools across the country, CIS connects kids to caring adults and community resources designed to help them succeed. CIS does whatever it takes to ensure that all kids—regardless of the challenges they may face—have what they need to realize their potential.