Want to live in an NBA legend's house? Got a spare few million dollars you aren't using right now? Well, you're in luck! Shaq is putting one of his several homes on the market. 
The real estate website Compass says O'Neal has listed his home in the gated Bell Canyon, California, community outside Los Angeles for $2.5 million. Seems Shaq may be reconsidering his real estate portfolio these days. He had also listed his home in the Orlando Florida area for sale a while back, but he's since taken that property off the market. Shaq's main home – at least during NBA season – is in the Atlanta area. Shaq is a regular on the TNT Network's NBA coverage, so he lives near the studio "in season." 
Meanwhile out in LA, two and a half million dollars buys you a 5,217-square-foot home that includes five bedrooms, four full bathrooms and one half bath. The home sits on a one-acre lot in a private equestrian community. For those who didn't Google it, "equestrian" means it's all about horses. Sidenote: we'd love to see a horse big enough to carry Shaq! What a ride that would be… 
Check out the pics below. The home's style is listed as a "contemporary mansion," featuring an open floor plan on the ground floor with details like a vaulted beamed ceiling in the formal living room and marble counters and custom cabinets in the kitchen. There's a big family room, a dining room, wine closet, wet bar, media room, laundry room, office and bedroom. Sidenote Number Two: we've seen specialty refrigerators made to store wine. A wine "closet" takes it to an entirely different level.
Upstairs, the master bedroom features dual walk-in closets, a fireplace, dual rain shower and a Jacuzzi tub. The other bedrooms share a bath also featuring a Jacuzzi tub.
The property also includes a backyard seating area, heated pool with a Jacuzzi and a fire pit. The home is also within walking distance to the community center's gym and tennis courts. No mention if there's a basketball court in this particular community play-area. Imagine the looks on neighbors' faces when the Big Man shows up for a little community pick-up game!
Check out a few pics below (all courtesy of the real estate site Compas.com)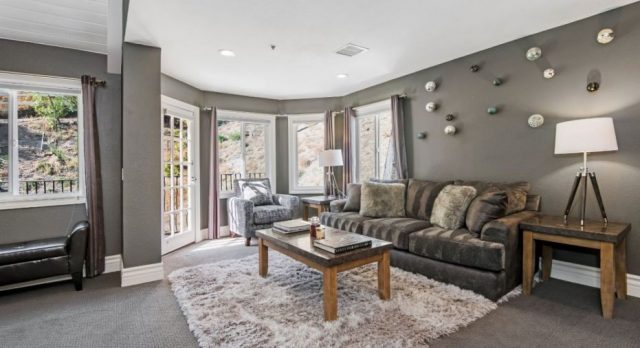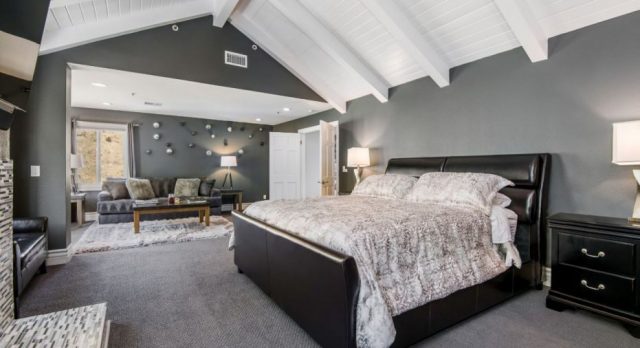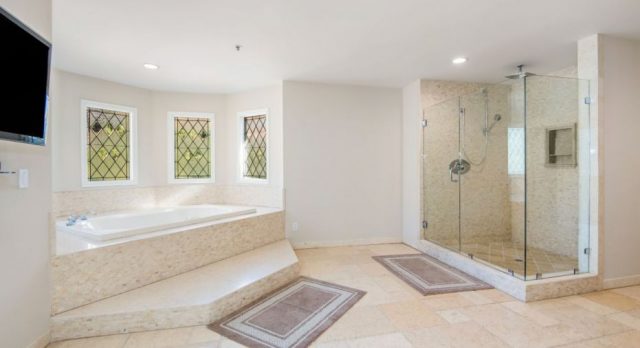 Depending on how much the property finally sells for, Shaq stands to make a tidy profit in a relatively short period of time. He bought the property in February 2018 for $1.815 million, according to another real estate website. There have been some upgrades in the time O'Neal owned it, including the basics like new flooring, fresh paint and some new light fixtures. And the future owner will be glad to know that stuff like the A/C and plumbing have also been updated. 
Like we said, Shaq has a few homes scattered around the country. With more reasonable real estate prices in Georgia, Shaq paid This isn't the only real estate move Shaq has made in the past few years. In 2016, he reportedly paid about $1.1 million dollars for a for a 7,400-square-foot home back in 2016. Near Atlanta, the house makes for a relatively easy commute to the TNT studios. 
Shaq's been making moves in real estate lately, or at least trying to. Just three months after he bought the Bell Canyon home, he listed his other home in the Orlando area for a cool $28 million. By December, 2018 Shaq had taken the Orlando property to another agent and re-listed it for $22 million. Local real estate records show it was never sold, and since then, it's been taken off the market. 
If you're interested, you could probably still make the Big Man an offer on the Big House in Orlando. It's a giant-sized 31,000-square-feet of living and fun space, on 3 acres overlooking Lake Butler. As for the house itself, there's a two-story great room, a big home theater and a master bedroom suite that includes a four-room closet and a big balcony overlooking the lake. For fun, there's a full-sized indoor basketball court (of course!).