Shaq lives in a lot of places around the country. He's got homes in Atlanta, Los Angeles and Orlando. As we've talked about in previous ShaqFu Radio blog posts, a couple of those properties are currently for sale, but there you go. Now businessman-Shaq has cut the ribbon and opened a luxury apartment building in his hometown of Newark, New Jersey.
While Shaq is calling it "Shaq Tower," the real, official name for the complex 50 Rector Park, and is located right on the Passaic River, adjacent to the campus of Rutgers University. The upper level apartments of the 22-story building have great views of New York City, just a few miles away to the east. 
The cost for the project was estimated at about $80 million and was developed  by Shaq and Boraie Development company. The building is – according to a company press release as reported on NJ.com – just steps away from the New Jersey Performing Arts Center and the renovated Hahne & Co. building that includes a Whole Foods and the newest restaurant by celebrity chef and Red Rooster Harlem owner Marcus Samuelsson. Space in the building is already more than 60% leased out. 
As the building was under development, Shaq told NJ Advance Media: "It's going to go down as the most historic building in Newark. Second of all, it's going to continue to beautify our city." Along with views of Gotham, the tower features gym, amenities room, and rooftop cabanas and grills for residents of its 168 units.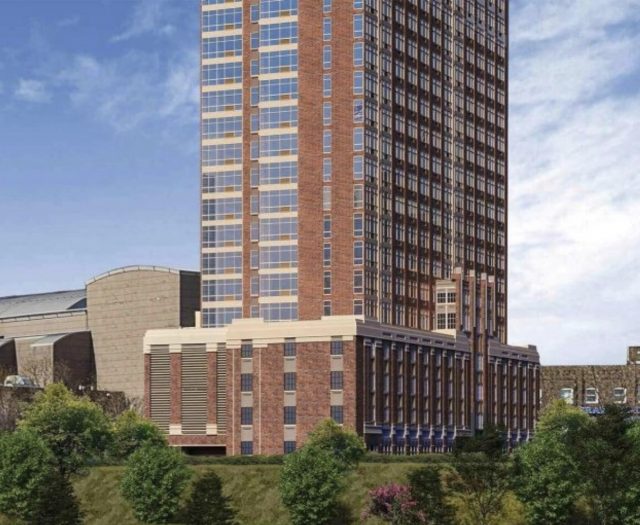 This is not the only project Shaq is getting behind. The same company is also in the planning stages for a new, bigger apartment complex. Boraie said the new building would have 350 apartments and be valued at $150 million. For those who know the area, the new 35-story building is at 777 McCarter Highway. It'll be known as the "House that Shaq Built…" That's according to O'Neal, so there will probably be an "official" name, too. 
Shaq has had a big-time business career following his NBA championship history. Just a brief roundup: he's on the board of directors for Papa John's Pizza and owns several franchise locations in the Atlanta area. Also in Atlanta, Shaq owns a Krispy Kreme Doughnuts franchise, and he's owned (but later sold)  more than two dozen Five Guys Burgers and Fries franchises. In addition, O'Neal is the founder and owner of Big Chicken, a fast-casual fried chicken restaurant in Las Vegas and Shaquille's, a fine dining restaurant, also in Los Angeles. Shaq is also a minority owner of the Sacramento Kings NBA franchise.