Shaq and his TNT NBA commentator buddy Charles Barkley did a little on-air and on social media coaching recently, and it seems to have been a big benefit to the guy getting the coaching.  
Philadelphia 76ers star Joel Embiid had 22 points, 10 rebounds and six assists while outplaying Denver Nuggets star Nikola Jokovic in a recent win for the Sixers. Pretty good game stats by any measuring stick. But (actually, a couple of big buts), that was not good enough for Shaq and Barkley.  In an on-air analysis on TNT's "Inside the NBA" program, both had some – shall we say – critical words for Embiid, the 76ers center.
Simply put – and this is a quote directly from Shaq on the Inside the NBA program – the Big Man told Embiid, "You ain't playing hard enough." 
"We're telling you, you can be great," O'Neal said during TNT's postgame coverage. "You ain't playing hard enough. Twenty-two ain't enough to get you to the next level.
"Do you want to be great, or do you want to be good? If you want to be good, keep doing 22 points. You want to be great, give me 28, give me 30. You want to be great, watch Giannis [Antetokounmpo]. He wants to be great."
Embiid – like O'Neal – is / was a superstar "big man" on the court. He's told other "bigs" that unless they're playing the game Shaq-style, they're doing it wrong. Tough love? You betcha. Good advice? Most likely. So his criticism of Embiid is not exactly a brand new concept. 
Shaq's fellow analyst and commentator Charles Barkley had similar thoughts. His comments were a little more to the point: 
"He's the toughest player in the league to match up with, but we don't talk about him the way we talk about Luka [Doncic], Giannis, Anthony Davis, James. We don't ever say that about him."
Other analysts and NBA gurus are in agreement with Shaq and Barkley. Word in the league is that Embiid is indeed a superb talent…. And yet he has a tendency to talk a HUGE game, but often play "only" a BIG game. Words don't always match on-court effort. And that level of effort is reflected in his teams overall performance… never getting past the second round of the NBA playoffs.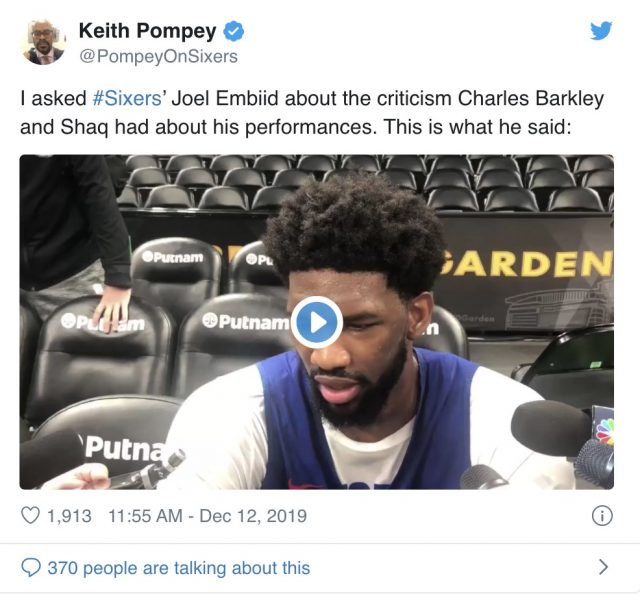 Seems that Embiid may be taking the advice and observations to heart. Just a day or so after the on-air comments from Barkley and Shaq, Embiid told reporters in Philly that he agreed with them: 
"Maybe they're right," Embiid said. "I do think they're right. I think I need to be more aggressive and just look to impose myself and look to dominate. I think the whole season, I haven't done that.
"I guess I need to go back to having fun and just dominating. I get what they're saying. I think that they're right, and I've got to make a change."
Will it work? Will Embiid's Sixers finally close the gap? That remains to be seen this season. Now that both LeBron James and Kawhi Leonard have moved to western teams, analysts have pretty much put the 76ers and the Milwaukee Bucks as the teams to beat in the Eastern Conference.