When it comes to Christmas-time, Shaq is really good in the "giving" department, not so much in the "receiving." A couple of quick stories just out this week will demonstrate the big man's holiday preferences. 
Shaquille O'Neal follows Santa's Christmas etiquette. That's according to celebrity news and gossip website PageSix.com, which recently had a short blurb about Shaq's do's and don't this Christmas season 
"I do not accept gifts," Shaq recently told Page Six. His reasoning? He says Santa never gets, only gives. "You show me a movie where Santa receives gifts and I'll take one." We should have known that Shaq considers himself in the same league with the Man in the Red Suit, but hey, it works for us. (A teammate, perhaps?) 
Shaq has been giving away toys and food to thousands of kids and families in need, and this year is no different. True Santa spirit! "I've been doing my annual Shaq-A-Claus [event], handing out toys to kids," he said, adding that it's the only holiday tradition he really sticks to. In fact, this will be the 28th year in a row that the former NBA star will host his Shaq-A-Claus event. Talk about G.O.A.T.! 
Shaq says his holiday magic-making is based on his own childhood experiences. In a story with the TMZ celebrity TV show back in 2018, Shaq said, "I know what it's like to wake up and not get one single toy on Christmas and I don't want any child to have to go through that."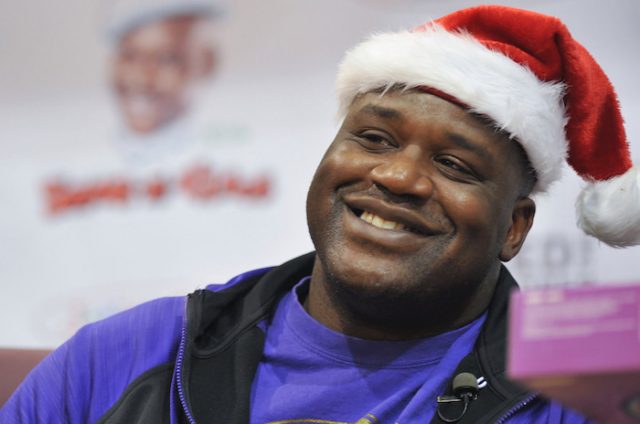 Now…speaking of giving, Shaq is definitely spreading some Christmas cheer in Jacksonville, Florida. A story on WJXT-TV in Jacksonville shows Shaq reaching out to local school officials to tell them he's got goodies on the way. 
In a partnership plan with Duval County Public Schools, the Henry and Zach Crocklett Foundation and Rhodes Graduation Services, Shaq is helping feed families and bring gifts to Jacksonville-area kids this holiday season. Selected Duval County families will receive a meal and gift packages on Dec. 19 through the Turkey & Toys Districtwide Partnership.
Shaq also gave Duval County a shoutout and said DCPS superintendent Dr. Diana L. Greene was "doing big things." Check out his short-but-cool video here: 
https://www.news4jax.com/video/video/2019/12/18/shaq-gives-shout-out-to-dcps-/