As if the Super Bowl – in Miami – isn't a big enough party… Now let's add Shaq to the mix! The Big Man is bringing his big party – Shaq's Fun House to South Florida on January 31st, two days before the big game. 
In an interview with national newspaper USA Today, Shaq talked about his contribution to the big event, "You get the best party in Miami history. I'm bringing out my friends who are Miami legends. … It should be the best lineup ever at the Super Bowl."
Of course more acts and names may be added later. But as of now, the Super Bowl – Fun House Edition already features Shaq as DJ Diesel, Pitbull, Diddy, Diplo, Tiesto and DaBaby, plus midway carnival games and rides, circus performers, food and beverages. O'Neal says he's still working to add another hip-hop star to the event.
Have you been to a lot of Super Bowls? Apparently, Shaq has, and he's found them to be less than exciting. O'Neal says he's tired of "all the old, boring stand-around Super Bowl parties. I've been to every Super Bowl party for the last 20 years and it's just standing around looking at each other." 
Shaq told USA Today he gave some thought to what he could do to make the Super Bowl event more exciting. The Fun House seemed like a natural; part music festival, part circus, part carnival. "We wanted to mix Vegas life with Cirque du Soleil life with Shaq life, and that's how it came about it," Shaq says.
This won't be the first time for the Fun House / Super Bowl combination. Last year in Atlanta, Shaq's Fun House kicked off with with appearances by Adam Levine, Migos, Patrick Mahomes, Lil Jon and Cirque du Soleil performers. Kinda leaves this reporter wondering; is Mahomes a rock / rap star, too? Gonna have to find the tape of last year's show! But now, in Miami, Shaq says the party will be three times bigger, with room for 5,000 people in a big event hall.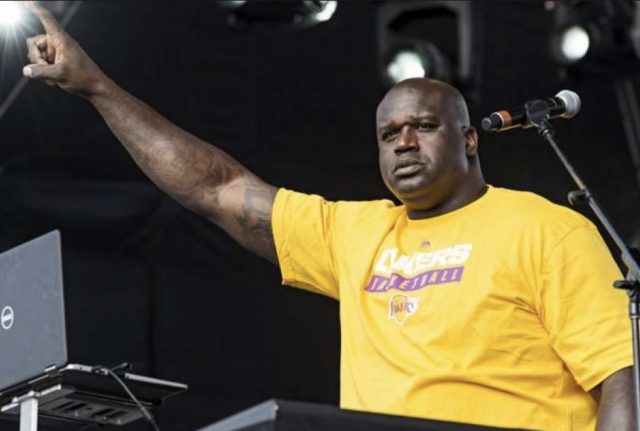 Basketball TV commentator, business magnate, and now mega-party host. Shaq's Fun House makes its fourth appearance in Miami after shows around the world, including the big Tomorrowland festival in Belgium.
And he's not done … not by a long shot. Shaq says he wants to expand internationally, with (hopefully) shows in Russia, China and other big locations. "Every year it keeps getting bigger and bigger. Everyone loves the concept and sees the potential."
Supporting Shaq is the production company Medium Rare. Company co-founder Joe Silberzweig says O'Neal always has something new up his (oversized) sleeve. "Each year, Shaquille modifies the DNA of the event and how he wants it to look and feel, and then we bring Shaquille's vision to life."
Wanna go? You can… for a small investment. Shaq's Fun House at the Super Bowl will be at the Mana Wynwood Convention Center in Miami's hip Wynwood dining and entertainment district. Tickets are on sale right now, starting at $249.99, which includes a five-hour open bar, and VIP tickets at $899.99. See you there!