Did you see the game the other night… The one featuring the Los Angeles Lakers and the Milwaukee Bucks? In case you missed it the Bucks beat LA 111-104. But it wasn't the final score that got Shaq's attention. No, the game was more about a message being sent from one up-and-coming superstar to the man they call "King James." Make no mistake, Shaq said, this was a statement game about the future of the NBA, sent from Giannis Antetokounmpo to LeBron James. 
The message (according to Shaq) from Antetokounmpo to James: There's a new King in the NBA. Based on the performance of the man they call the "Greek Freak," that assessment definitely has some legs. Antetokounmpo posted big-boy stats: 34 points, 11 rebounds, and seven assists with a career-high five made three-pointers.
Here's Shaq, quoted on www.Heavy.com: "Giannis [Antetokounmpo] is saying you have been the king for a long time; it's my league now. Listen, he has been playing fabulous; we don't like him shooting that three, but if you are going to knock five down five-threes, we can't say nothing to you."
We're pretty sure The King will not go quietly. Ever since the first move out of Cleveland to the Miami Heat, James has been the Force in the NBA: Finals with the Heat in 2010-2011 and more. James-led teams won the Eastern Conference Finals for eight consecutive seasons with three resulting in championships.
Now James is a little older and playing out west. That streak of consecutive NBA Finals got shut down in the 2018-19 season. Sure there was a groin injury.. and a totally   unimpressive Lakers roster. Things are looking up this year. LA acquired Anthony Davis To add some much-needed horsepower, and the Lakers are looking much-improved this season. As of this writing, they're at the top of the Western Conference with a 24-5 record.
But… and it's a BIG but, the greatness of LeBron and his Lakers team this season could be overshadowed by a Bucks squad led by Antetokounmpo. It's looking like "The Greek Freak" Iis on the brink of a second MVP Award. Now he's got some improved pieces around him, and it's looking like the Bucks could finally make it over the hump and make a deep run in the playoffs.
Is Antetokounmpo got a new title on his mind? How about this pic: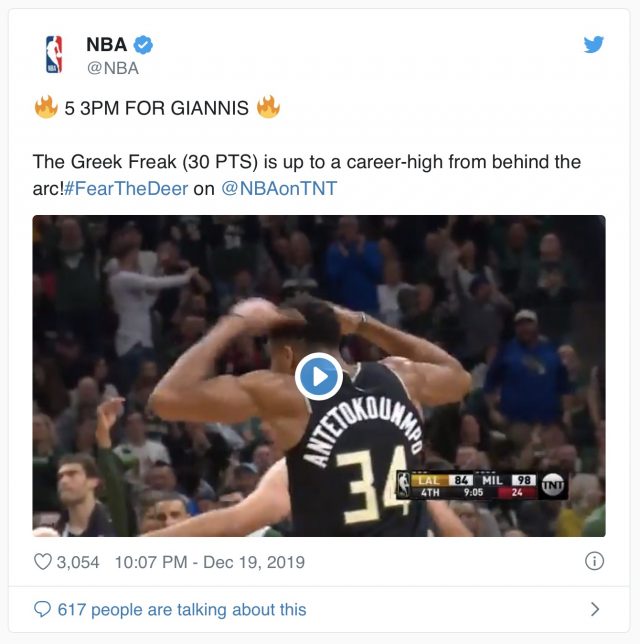 After hitting a three at the 9:05 mark in the 4th quarter, Giannis used his hands over of his head to gesture a crown. No word on a comment – if any – from King James just yet. We're guessing the crown won't go easily…