Sad news from the National Basketball Association head offices this week… former NBA Commissioner David Stern died New Year's Day from a brain hemorrhage he apparently suffered about three weeks ago. His wife Dianne and other family members were at his bedside. 
Stern took over the NBA in 1984 – the same year legendary player Michael Jordan entered the league – and would guide it for three decades. He retired not long after the man some saw as the next G.O.A.T. – LeBron James – was winning his rings. 
In a statement on social media, current Commissioner Adam Silver talked about Stern's legacy with the game they both loved: "For 22 years, I had a courtside seat to watch David in action.  He was a mentor and one of my dearest friends. We spent countless hours in the office, at arenas and on planes wherever the game would take us. Like every NBA legend, David had extraordinary talents, but with him it was always about the fundamentals – preparation, attention to detail, and hard work.
"David took over the NBA in 1984 with the league at a crossroads.  But over the course of 30 years as Commissioner, he ushered in the modern global NBA.  He launched groundbreaking media and marketing partnerships, digital assets and social responsibility programs that have brought the game to billions of people around the world.  Because of David, the NBA is a truly global brand – making him not only one of the greatest sports commissioners of all time but also one of the most influential business leaders of his generation.
"Every member of the NBA family is the beneficiary of David's vision, generosity and inspiration.  Our deepest condolences go out to David's wife, Dianne, their sons, Andrew and Eric, and their extended family, and we share our grief with everyone whose life was touched by him."
Remembrances have been pouring in from current and former NBA players, as well as leaders of other sports leagues and teams. National Hockey League Commissioner Gary Bettman talked about Stern as a "long-time mentor and friend."
In his online post, Shaq put it very simply: "RIP Mr. David Stern. The Best Commissioner to ever do it." Along with Shaq, other players and owners expressed their love. MJ, Magic Johnson, Scottie Pippen, Pau Gassol, Dirk Nowitzki, Bill Russell, James Harden, Isiah Thomas and others, including Dallas owner Mark Cuban all talked about Stern's huge impact on the game.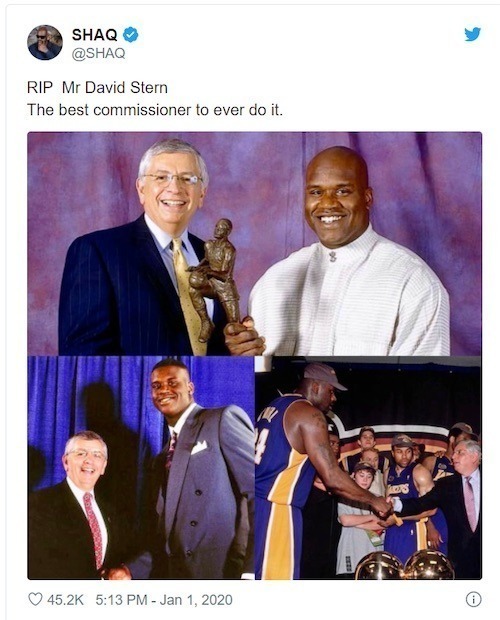 Stern was commissioner from 1984 to 2014. During his time at the helm, the NBA added seven franchises to expand to 30 teams. He negotiated big-money television deals, handled crises and work stoppages, and put a focus on international exposure and marketing.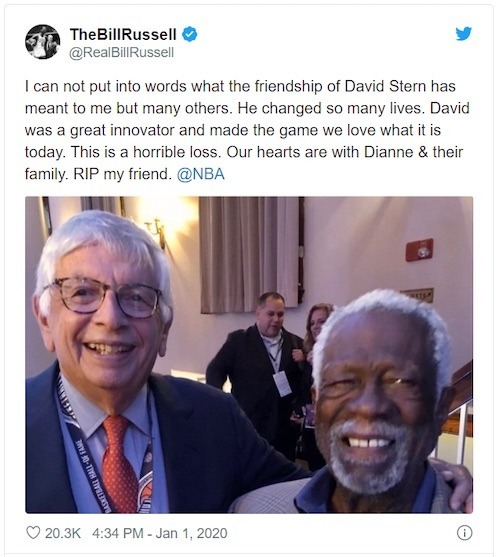 In a statement, Jordan praised Stern for his "vision and leadership. "Without David Stern, the NBA would not be what it is today. He guided the league through turbulent times and grew the league into an international phenomenon, creating opportunities that few could have imagined before.
Jordan added: "His vision and leadership provided me with the global stage that allowed me to succeed. David had a deep love for the game of basketball and demanded excellence from those around him, and I admired him for that. I wouldn't be where I am without him. I offer my deepest sympathies to Dianne and his family."