Props from one superstar big man to another…one playing now, one watching the action. Our man Shaquille O'Neal recently did a couple interviews on how he might fare in the current Association. But more than that, Shaq made an unusual (and fun) statement: That he's actually still playing in the NBA… And his name is Giannis Antetokounmpo.
In a recent podcast interview with Jackie MacMullan, Daryl Morey and Kirk Goldsberry, Shaq explained how good he'd be in the current NBA. For Shaq, it's all about control of the paint…something he dominated in his day.  One of the hosts would take Shaq right now. "I would give him the ball 1,000 times, is my guess. Is he coming? Can I draft him somewhere?"
For O'Neal, he sees where he would fit in the way the game is currently being played. "I would actually love to play in this NBA," O'Neal says. "I would bring a little bit more physicality. I would bring my length, I would bring my athletic-ness. So, before you say, 'Shaq can't play in this era today,' I'm already playing. My name is Giannis Antetokounmpo."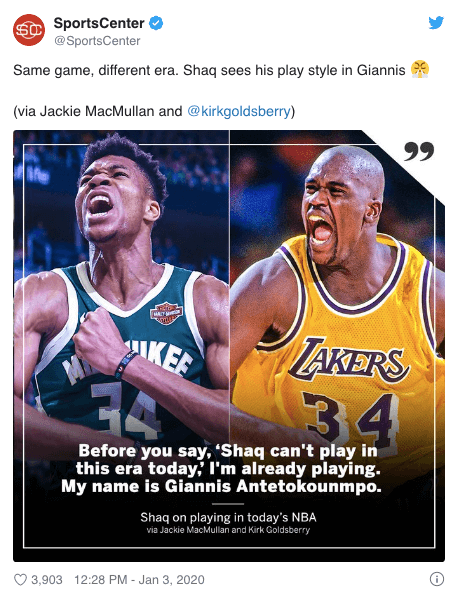 Nice props for Giannis (a.k.a. The Greek Freak), who has shown his talents season after season. Sports commentators and social media sites are big-time split on the Shaq / Giannis comparisons. 
With totally  dominating size (over seven-feet tall and 300 pounds), O'Neal was as traditional a back-to-the-basket center as basketball has ever seen. He ruled the low block from the mid-1990s to the late 2000s, subsisting on post-ups, duck-ins, and lobs. As king of the pain, O'Neal rarely brought the ball up the floor.
On the other hand, Antetokounmpo seems to be the Milwaukee Bucks' primary ball handler. And when it comes to physical skills, Antetokounmpo has definitely put in his time at the gym. He's got to be one of its most imposing physical presences of all time.
Here's some real numbers, and what a story they tell. Case in point: He's averaging more paint points per game than any player since O'Neal in his early-2000s heyday.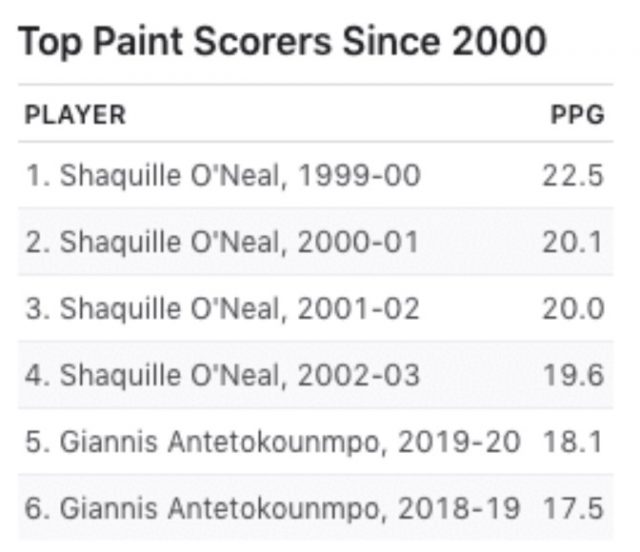 Source: ESPN
That exclusive club shouldn't come as much of a surprise given how frequently O'Neal and Antetokounmpo rock the rim with dunks. Last season, Antetokounmpo joined Dwight Howard as the only high-usage players since the stat started being recorded in 2001 to notch more dunks than O'Neal's personal best of 255, per Basketball Reference.