Have you ever seen Shaq in his Superman getup? Not exactly the Man of Steel, but really, really close. Well, no costume last week in the Big Apple, but the Big Man still got to be a bit of a hero.
Seems O'Neal was driving through NYC's East Village last Monday when he saw a woman collapsed and right in the middle of the street. Shaq and several others jumped into action…offering the woman help and waiting on the scene until medical help arrived. 
Check out the pic below: Dressed in a camouflage coat, but definitely not blending in, the 7'1″ NBA Hall of Famer hopped out of his car and helped to stop traffic along with a group of good Samaritans as they waited for first responders.
Celebrity news website TMZ reported the woman involved was apparently diabetic, fainted and fell to the street right in the middle of the crosswalk. TMZ says it reached out to Shaq's publicist for more info, but did not get a call back.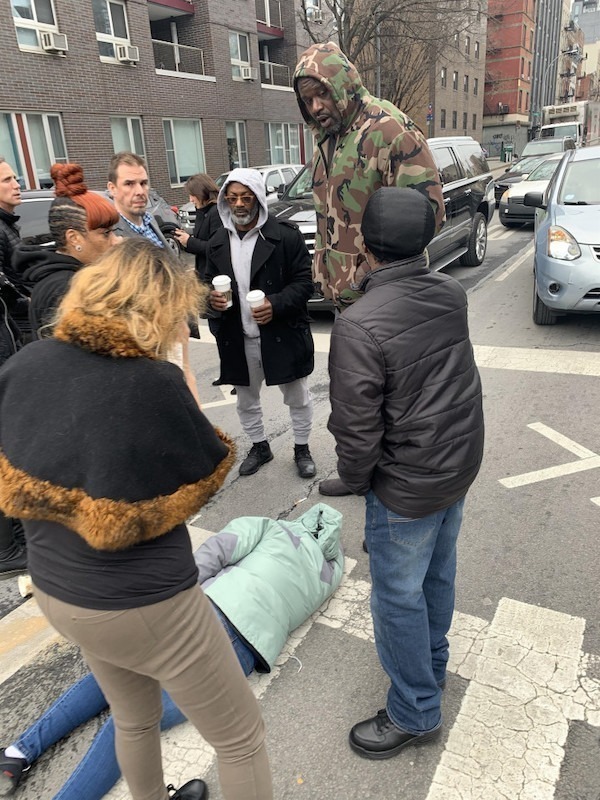 Shaq is in the area frequently. He's a native of Newark, New Jersey – just over the river from New York. He's gone by names like DJ Diesel, The Big Aristotle, Shaq Fu (of course! our blog / radio station name) and Shaq Daddy. But last week, it was Shaq the Big Help right there on the streets of Gotham City. 
There's even a bit more "celebrity-being-helpful" news out there for the same day. Again, this is reporting from TMZ: Along with Shaq doing his Superman thing in the city, over on the Brooklyn Queens Expressway … New York Governor Andrew Cuomo was leaving an event called A Better New York when he came across a vehicle involved in an accident. He reportedly helped cut the passenger out of his seat belt and … helped pull the guy out to safety. Definitely helping to make a better New York, for both the Governor and Shaq. Well done, gentlemen!