Here at the ShaqFu Radio Blog, we've had stories about the big man's business deal with JCPenney…helping that big-name retailer create and market king-sized men's clothes. Shaq has talked about how it's hard for someone of his size to find good-looking, well-fitting clothing, especially business-class suits and the like. 
Well this week, Shaq put his fashion and retail skills on display, helping a young man in the Dallas area do some shopping for his high school prom… and offering some life advice as part of the deal. Student Kylon Owens is a star basketball player for South Oak Cliff high school, just south of Dallas. The school has been in the news lately, and not for a good reason. There was a shooting at the school last week (as of this writing) just after a basketball game. 
But now the school and students are recovering, getting ready for prom and other activities, including opening a brand-new gym. For Owens, that meant a trip to JCPenney in the Hurst area of Dallas for a little shopping, and running in to JCP's big-man clothing ambassador, Shaquille O'Neal. 
O'Neal, who has talked about the difficulties big men face in finding clothes, helped the 6-foot-10-inch Owens find something for the upcoming prom. Owens tried on three suits. The first two got a thumbs down from Shaq, but the last one, a glittery black jacket with cropped pants, got the thumbs up.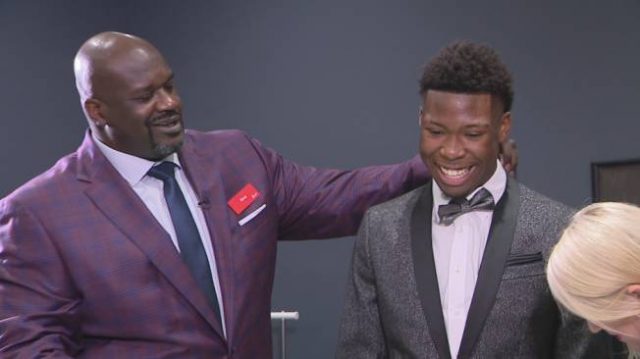 "I feel very special today," Owens said. "He was like me once, so I know that it's possible to be someone like him one day." As for Shaq, he liked what he saw in the young man. "I am proud of you, everything you are doing in school," O'Neal told Owens when they were introduced.
After the school shooting, Owens has been one of the student leaders to help his fellow students recover. "Guys like that, they become future leaders, I can tell he has a future on and off the court. If basketball doesn't work out for him, he is going to be fine, very bright kid," O'Neal said. Basketball is Owens' passion, but he knows life is bigger than the game. So he strives to be a positive light for all to see.
"In my neighborhood, in my community, it is very hard. I am fortunate to have two parents in the home so I try to be there for my teammates, there for whoever and be a good example," he explained. ​
As we said, Shaq offered more than fashion advice to Owens. "I've done great things just by listening to my mom and dad," O'Neal said. "Start there." 
"I want to be the best player, best athlete, and best person I can be," Owens said. A senior this year, wants to be in the NBA one day.
Apparently, Shaq wasn't done with surprises that day in Dallas. Just hours after surprising Owens at school, O'Neal also made another appearance at South Oak Cliff's basketball game. The game that night was the first for South Oak Cliff in their new gym. In the stands cheering for Owens and his team was Shaq, who decided to stay in town and watch him play.