Regular readers here at the ShaqFu Radio blog know the Big Man is a big (dare we say huge?) force in the advertising and marketing industry. He's got his own businesses, and works with other popular brands in all sorts of ways – making TV and radio commercials, live appearances, etc. Shaq continues to show off those marketing chops with a recent appearance at the Consumer Electronics Show in Las Vegas. 
Sure, he retired from the NBA in 2011, but as a recognizable face and towering presence, he's just as big (or bigger) than ever. A recent story from the Advertising / Marketing publication Ad Week shows Shaq is nowhere near slowing down his pitchman work. Sure, he's on TV as part of the team for the TNT network's "Inside the NBA" show, but that's just the start. 
A small samping: Shaq has appeared on 7-Eleven beverage coolers and Zales jewelry cases. He's the "Chief Fun Officer" for Carnival Cruise Line, a popular GIF thanks to his Gold Bond ads, and he's the newest board member for Papa John's Pizza, helping that company reinvent its image. While in Vegas, Shaq was spotted on the show floor helping talk up his longtime brand partner Ring.
He's done funny: Check out Oreo cookie ads from a few years ago. He's done helpful and heartwarming: Along with partner Zappos, he's part of a Christmas-gift program for underprivileged kids. And there's the just plain strange: Check out his pics on the GoDaddy (website hosting) Twitter page with various cheese sculptures on his head. 
Talking to Ad Week at CES, Shaq was asked why so many brands come to him to be their ambassador. "It's all about humility. Even though I was an animal on the court, I still did things with humility. When it comes to real life, it's 'Yes sir,' 'How you doing, buddy?' 'Come on over here, kid.' There are two types of superstars: touchable and untouchable. I'm touchable."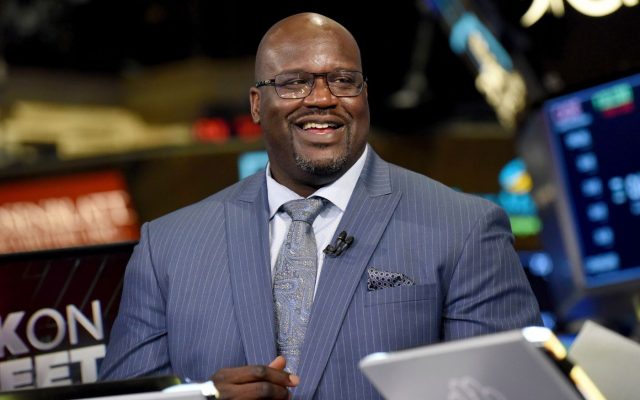 Business leaders agree. GMR Marketing Chief Brand Officer Dave Rosenberg told Ad Week, "…as intimidating as he is on the court, he is approachable off of it. His ability to never change who he is, to have fun with the product and with himself, that consistency is what brands love."
Sure, we see him almost everywhere (especially fans of ShaqFu Radio)…but when it comes to picking which TV commercials and other projects he's going to be involved with, Shaq says he's very selective. 
"I only promote products I believe in. I can't take your money as a man, or as a businessman, if I don't believe in your product. I get offers from a lot of people all the time. I've turned down probably half a million dollars just because I didn't know enough about the product, or I never tried it, or I wasn't comfortable."
Can he do too much? It's possible, says University of Oregon's Warsaw Sports Marketing Center Director Whitney Wagoner. "I think there is a saturation point. If there's too much, then fans and consumers can begin to wonder, 'What does he really stand for then?'" 
Over a nearly three-decade career in and around the NBA, Shaq has built plenty of natural relationships with brands he works with. Take American Express: He's been a spokesman for the company since 2016, but his relationship with Amex actually began in 2008 after Shaq was traded to the Phoenix Suns.
Ad Week tells the story: With an empty apartment and a hefty new contract, Shaq was trying to buy $70,000 worth of furniture and appliances from Walmart. (This reporter would have never guessed you could spend that kind of money at Walmart!) Still, the Big Man's card was apparently declined twice before the fraud detection team at Amex called him right there in the Walmart checkout line and sorted things out.