Even though Shaquille O'Neal was absolutely one of the biggest, most dominant players of his time in the NBA – and for that matter, all time NBA history – he's still human, and had concerns, challenges and fears just like anyone else…even on the court. On a recent episode of the TNT show "Inside the NBA," Shaq talked about the four players he was "afraid" of playing, at least at first. 
Who did Shaq fear the most? Not surprisingly – and just like a lot of his other fellow players in the Association – none other than Michael Jordan, MJ himself. Jordan and Shaq's careers overlapped just a bit, in the early 1990's (see the picture below for proof). 
Along with Jordan, Shaq talked about other players he had some fear of facing – at least the first few times he faced off against them on the court. Surprisingly, one of those names is one of the men he shares the "Inside the NBA" stage with: Charles Barkley. Along with Sir Charles, Shaq mentioned David Robinson and Patrick Ewing, both superstar big men in the league. 
Set the WayBack Machine for 1992. Shaq took the league by storm in his rookie season, turning the Orlando Magic into a force to be reckoned with. He made the All-Star team in his debut campaign while putting up nightly averages of 23.4 points, 13.9 rebounds, and 3.5 blocks. 
But the Big Man was just making a Big Start in Orlando. After four seasons with the Magic, he moved out west to Los Angeles, where the Magic star turned Laker superstar. Shaq and teammates won three NBA Championship titles and was named Finals MVP as well. After LA, it was back east to Miami, there he won his fourth and final NBA title. There were three other seasons spread around the league and then retirement in 2011.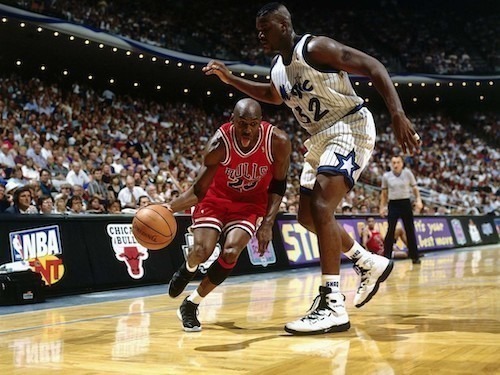 How about playing against the G.O.A.T.? Shaq puts it this way: "I was terrified out there for the whole game. One, he is the greatest player and two I was worried about him dunking on me, and I would have to go back and face the fellas. And three, he was so hot that I was like man, this dude. The stuff that I saw when I was in college on TV was really real. I was terrified. "
Says Shaq, "Since the statute of limitations is up – I was terrified out there." When asked how long the terror of going up against MJ lasted, Shaq told his co-hosts, "The whole game."
While defending against MJ was a nightmare, Shaq had no problem on the offensive side of the game against Michael and the rest of the Bulls. "But when I got the ball and saw those bumps playing me, I was going to go to work. Bums, you know what I'm saying."
Shaq also said he was scared of Barkley, Ewing and David Robinson but surprisingly not Hakeem Olajuwon. According to Shaq, Hakeem was too much of a nice guy, so he didn't impose that type of fear element as the other guys did on him.
And Sir Charles? Shaq would only say this: "Barkley was mean." 
Check out the entire conversation on "Inside the NBA" video below!