Shareef O'Neal, son of Hall of Famer Shaquille O'Neal, says he intends to leave UCLA for another school… But his destination has yet to be determined, at least as of this writing. 
O'Neal missed his entire freshman season at UCLA, and has played only limited minutes for the Bruins this season. He started hinting about the matter earlier this week, and now he's making it more "official." Several social media posts are out there, with Shareef thanking those that got him here and those that have helped him over the last few years.
"A part of my heart will always be at UCLA figuratively and literally," he wrote on Twitter. "I'm looking forward to the next chapter, wherever that may be." For his part, UCLA coach Mick Cronin released a his own statement, saying he met with O'Neal personally and was informed of the decision. "We fully support his decision and are wishing him all the best," Cronin said.
A lot of schools were interested in Shareef. Originally, O'Neal committed to Arizona in high school before having a change of mind and heart, probably based on a pay-to-play scandal. In addition, Baylor, LSU, Cal, USC, Kansas State and Georgetown also offered him scholarships during his high school recruitment.
Shareef's followers on Twitter saw some hints that he was at least thinking of making some kind of big decision or move, even if it was a bit cryptic. Shareef posted an image of cartoon character Bart Simpson lying in bed wide awake, unable to sleep. Probably trying to make a big decision, right?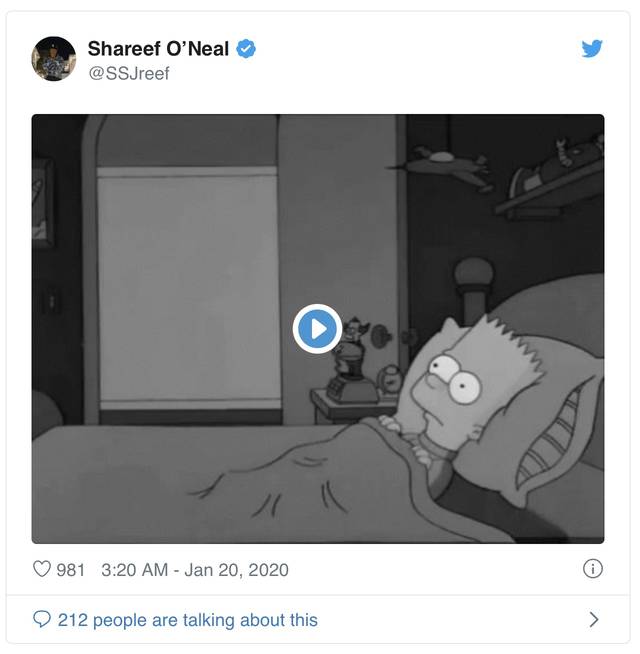 Now he's talking about it more openly. "My parents have always taught me that transparency is the best form of communication. It is in this spirit that I announced today my departure from the University of California Los Angeles," O'Neal wrote. "A part of me will always be at UCLA figuratively and literally. I'm looking forward to the next chapter, where that may be."
O'Neal had been part of a much-touted 2018 recruiting class for the Bruins, but it's been a bit of a rollercoaster for the young man and his NCAA career. O'Neal was diagnosed with a heart problem early on at college. He underwent open heart surgery to correct it. He's fine now, and was cleared to play basketball last spring.
Where to now? That remains to be seen. We'll let you know just as soon as dad and the rest of us find out.