The basketball world – and people who never saw a game – are grieving the loss of superstar Kobe Bryant this week… after a helicopter crash near LA claimed the lives of nine people Sunday morning. Included among the victims, Kobe's 13 year-old daughter Gianna. The pair were flying to a youth basketball game where Gianna was going to play and Kobe was set to coach. 
Other victims included a young friend of Gianna's, another member of her team, and both that young lady's parents. Those victims are identified as Orange Coast College (OCC) baseball coach John Altobelli, his wife, Keri, and daughter, Alyssa. Gianna and Alyssa were teammates at the Mamba Academy, sponsored by Kobe.
Within minutes of the news of the helicopter crash and those aboard, a huge crowd gathered at Staples Center in Los Angeles to pay tribute to one of the greatest Lakers of all time. News of the deaths came during the play of the NFL's Pro Bowl game in Orlando, and many players reacted to the death of another sport's legend as the game continued. 
In the NBA, many players were visibly shaken during games later Sunday, and the reactions began to pour out from the many, many players and others touched by Kobe in both his on and off-court life. CBS Sports has collected many of the tweets and other reactions from those remembering Kobe: https://www.cbssports.com/nba/news/kobe-bryant-death-lakers-legends-magic-shaq-kareem-and-jerry-west-reflect-on-kobes-life/
A remembrance on ESPN called Kobe, "Relentless, curious and infinitely complicated." On FoxSports, analyst Skip Bayless noted Kobe was "Becoming greater in his second career than in his first career." Bryant's after-basketball career included several business ventures, and also a deeper connection to family. He had said that his daughter's interest in basketball helped bring him back to the game after his retirement.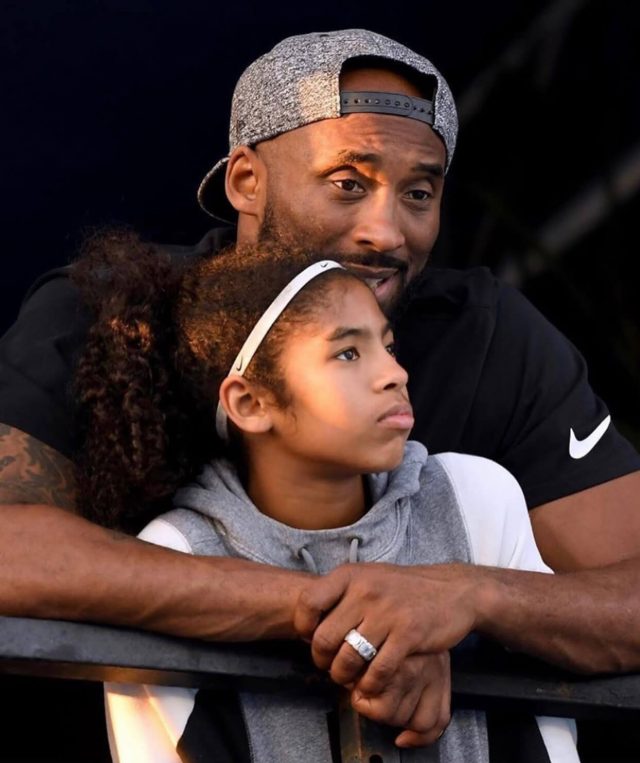 For Shaquille O'Neal, the news of his former teammate's death was devastating. Sunday, Shaq tweeted a loving remembrance of his longtime Los Angeles Lakers teammate and "brother" Kobe Bryant. "There's no words to express the pain Im [sic] going through with this tragedy of loosing [sic] my neice [sic] Gigi & my brother @kobebryant.  love u and u will be missed."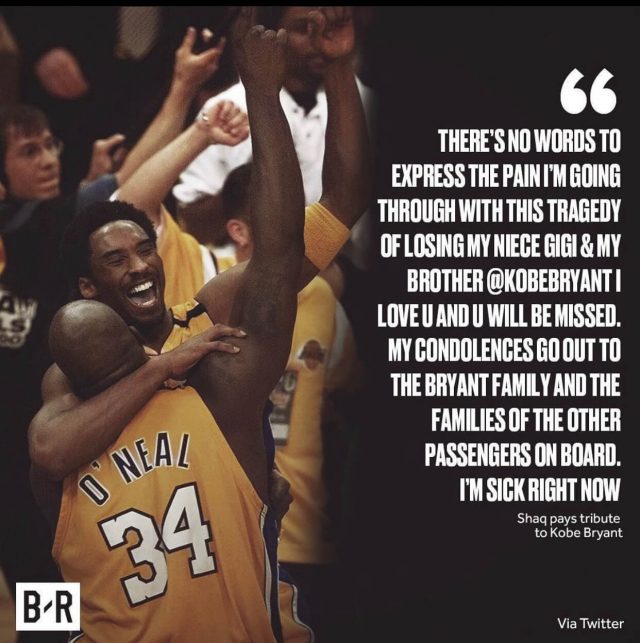 O'Neal, 47, and Bryant, 41, played together in the purple-and-gold from 1996 through 2004, forming one of the most formidable duos in the history of the NBA. As a reader of the ShaqFu Radio blog, you know the stories of the basketball and the NBA Championships.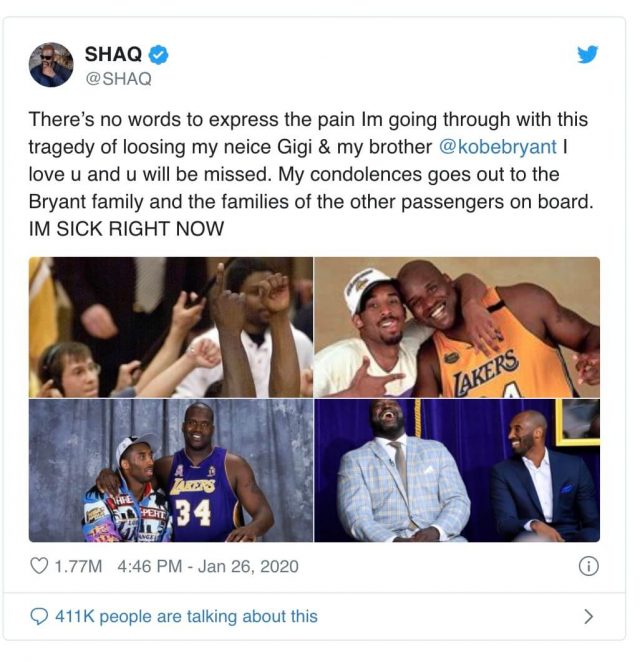 There's another connection: Shaquille O'Neal's son was one of the last people to hear from Kobe Bryant before the Lakers legend boarded a tragic helicopter flight. Shareef O'Neal posted his exchange with Kobe on Twitter from Sunday morning. 
Shareef had indicated earlier this week that he was interested in transferring colleges, prompting Bryant to ask "You good fam?" Shareef wrote back: "Yeah! Just getting this work in trying to figure out my next move," Shareef answered. "How you been?"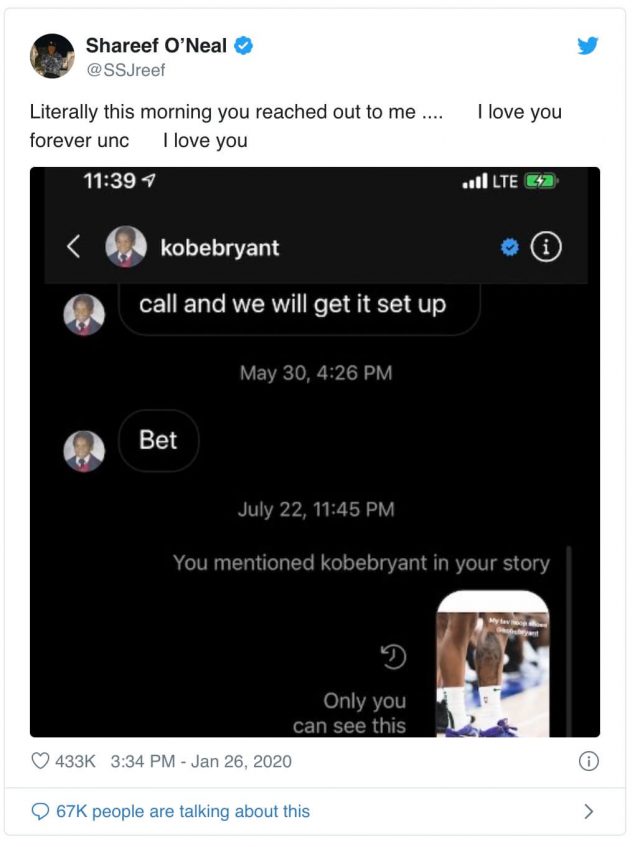 Bryant's text was from 8:19 a.m. and Shareef's response was at 10:58 a.m. In between those times, Bryant, 41, and his 13-year-old daughter, Gianna, were among nine killed in a helicopter crash in California.
We'll continue to keep you updated on this tragic story this week and in the future as events unfold.