He went back and forth with his thoughts and feelings, but when event-time came in Miami, Shaquille O'Neal did indeed take the stage (along with friends) for his big "Fun House" concert and party the Friday night before the Super Bowl. The event came just days after the tragic death of Shaq's friend and former LA Lakers teammate, Kobe Bryant. 
The big event – a mix of carnival-style trappings and music – went on as planned, with Shaq promising to donate proceeds from the show to a Foundation set up by Kobe and his wife, and also to the other families that lost loved ones in the helicopter crash that claimed a total of nine lives in the fog-shrouded hills of southern California near Los Angeles. 
For music gigs, Shaq becomes his alter-ego, DJ Diesel, and this show was no exception. As the show got started, Diesel yelled to the crowd, "Put your cellphone lights on. We gonna light this (expletive) up one last time for Kobe Bryant."
In a move that reminded watchers of those moments when championship banners are unfurled from the ceilings of sports arenas, a giant-sized banner with Kobe's LA Lakers numbers – 8 and 24 – hung from the roof of the party location. O'Neal introduced it by playing Kanye West's "All of the Lights." "We miss you Kobe Bryant," he said, holding his hands up and looking to the ceiling. "Put your hands up for Kobe Bryant. We love you, brother."
It was January 26th when Bryant, his 13-year-old daughter Gianna and seven others died in a helicopter crash. Days after, O'Neal said he would go on with his planned pre-Super Bowl party in Miami but would dedicate all the proceeds to the families of the victims and the Kobe and Vanessa Bryant Foundation.
"I'm gonna always remember his memory because we're forever linked," O'Neal told The Associated Press in an interview before he performed. "I lost a sister, lost a father – whenever you lose somebody that's super-important. It's always gonna be heavy on the heart."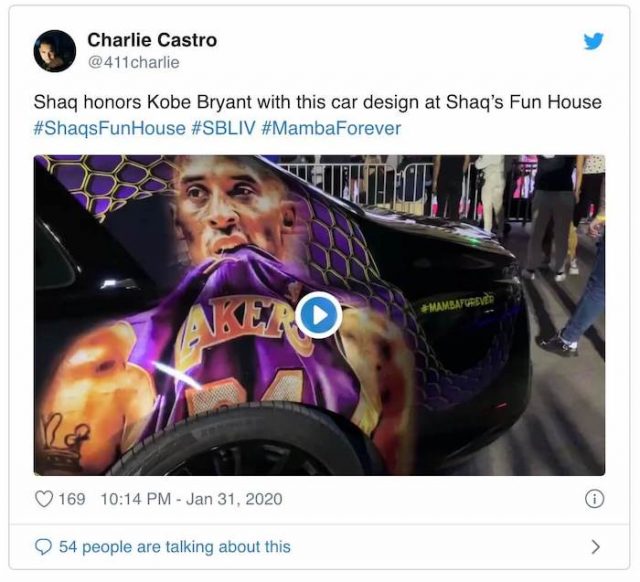 Together, Shaq and Kobe were one of the most powerful duos in the game, powering the Lakers to NBA Championships between 2000-02.
It was just hours before Shaq's Fun House event that his and Kobe's former team played its first game since Kobe's death. Current Lakers superstar LeBron James took to the floor of the Staples Center to offer a few words. James and the rest of the team wore Kobe's number 24 jersey, and the groups Boyz II Men and Usher performed.
Back in Miami, O'Neal encouraged the feverish crowd at the Mana Wynwood Convention Center to chant "Kobe" during his performance. Diddy, who performed after O'Neal, closed his short set by doing the same thing, with the audience absolutely went along in honoring Kobe. 
Diddy then performed the touching song "I'll Be Missing You" – written after the death of close friend and collaborator Notorious B.I.G. – and dedicated the song to Bryant.